Nichola
Added Nov 7, 2007
By burdastyle
New York, New Yo...

Step 9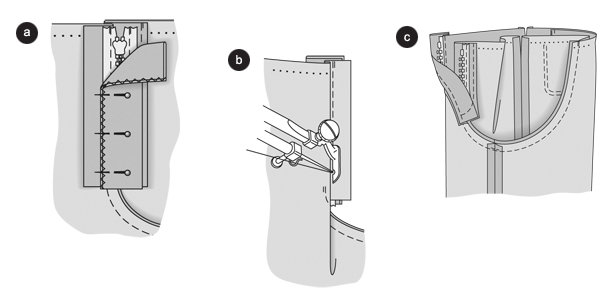 Fold the under lap in half lengthwise, right side inside. Stitch the lower edges onto another. Trim seam allowances. Fold over the under lap, pin and iron edges. Baste the open long edges that are held together.
Pin the under lap onto the seam allowance of the left slit edge from the inside so that the basted edge is lying on the zipper band and the selvage is lying 3 cm (1 1/5 inches) away from the front middle (a).Stitch the facing of the left slit edge onto the under lap close to stitching line (b). Close zipper.
Pin the slit closed middle on middle once again and stitch the remaining zipper closure stitching line, taking in the under lap, too. Pull thread to the inside and tie.
Back Middle Seam:
Push the pant legs into each other, right sides facing. Pin the back middle seam, seam lines meet. Stitch ©. Secure seam ends.
Tip: Since the middle seam will be strained, stitch the seam twice with the stretch or triple stitch (see instructions of your sewing machine). Fold apart and iron the seam allowances starting at the top until you reach the beginning of the crotch.
0 Comments on Step 9
Patterns for this Project
Produced by BurdaStyle