Nichola
Added Nov 7, 2007
By burdastyle
New York, New Yo...

Step 8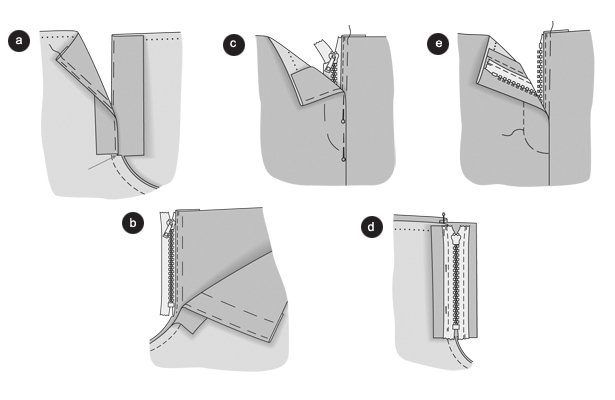 Zipper Slit
Women's pants close from right to left. That means that you have to pin the facing at the Marked front middle over to the inside. Pin the facing over to the inside at the left slit edge, 5 mm ( 1/5 ") next to the front middle, so that the zipper won't show. Make sure to cut the seam allowances at the end of the slit (arrow) until you are at about 5mm (1/5") from the seam. Iron edges (a).
Pin the left slit marking close to the zipper teeth onto the zipper band and stitch neatly with the zipper foot of your sewing machine (b).
Pin slit closed middle on middle ©. Pin the facing of the right pant piece to the second zipper band, do not take in the pants when doing this.
Stitch the Zipper onto the facing (d). Coming from the right side of the pants, stitch the right closing edge at the marked stitching line going from the top until you reach the beginning of the rounded edge, taking in the facing (e).
0 Comments on Step 8
Patterns for this Project
Produced by BurdaStyle