Nichola
Added Nov 7, 2007
By burdastyle
New York, New Yo...

Step 7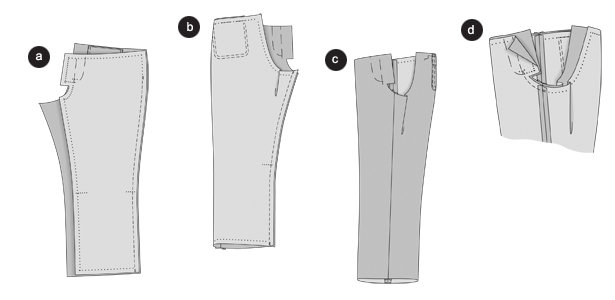 Crease at the front pant pieces
Fold the front pant pieces at the line CREASE, left side inside. Iron crease.
Side Seams
Place the front pant pieces onto the back pant pieces, right sides facing, pin side seams. Stitch, starting at about 2" (5 cm) below the upper pant edge. Secure the seam beginning and end (a).
Inner Leg Seams
Fold the pant pieces lengthwise, right side inside. Pin inner leg seams. Stitch (b). Fold apart and iron seam allowances, baste. Turn over the pant legs, right side outside.
Crease, back pant pieces
Place the pant pieces onto the ironing board, so that the inner leg seam meets the side seam and the front crease is completely straight. Iron crease into the back pant piece. ©
Front Middle Seam
Baste the seam allowances of the front facings, the front middle and the back middle seams, consecutively. Turn one pant leg, left side outside. Push pant legs into each other, right fabric sides and inner leg seams meet. Pin the front middle seam coming from the arrow mark until you reach the inner leg seam. Stitch. Secure seam end and beginning (d). Pull the pant legs apart again. Turn flap. Pin edge, iron and stitch neatly, 7 mm (about 1/4") wide. Sew in button hole. Pin the flap in between the vertical lines of the seam allowances on the left back pant piece.
0 Comments on Step 7
Patterns for this Project
Produced by BurdaStyle