Nichola
Added Nov 7, 2007
By burdastyle
New York, New Yo...

Step 6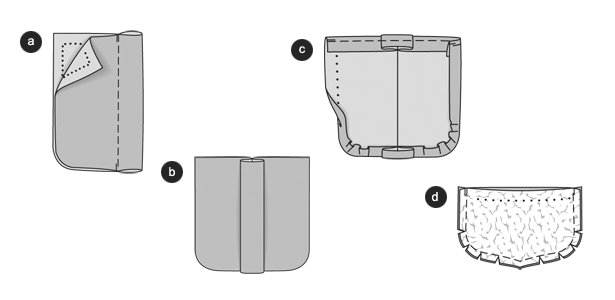 Pocket
For the creases, fold the pocket so that the marked stitching lines meet, left side inside. Stitch along the marked stitching lines (a). Fold apart the pockets and iron the crease, so that the crease middle meets the stitching lines (b). Baste pocket all around. Fold over the seam allowance of the upper pocket edge to the inside and stitch neatly
Fold the seam allowances of the remaining pocket edges over to the inside ©
Pin the pocket onto the back left pant piece so that it meets the base lines, stitch neatly, 7mm (about 1/4") wide.
Flap
Pin flap pieces on top of each other, right sides facing. Stitch, leave the base seam open, trim seam allowances, cut in at the rounded edges (d). The remaining side seams won't be sewed until the waistband has been attached. Fold apart, iron and baste seam allowances.
0 Comments on Step 6
Patterns for this Project
Produced by BurdaStyle