Nichola
Added Nov 7, 2007
By burdastyle
New York, New Yo...

Step 3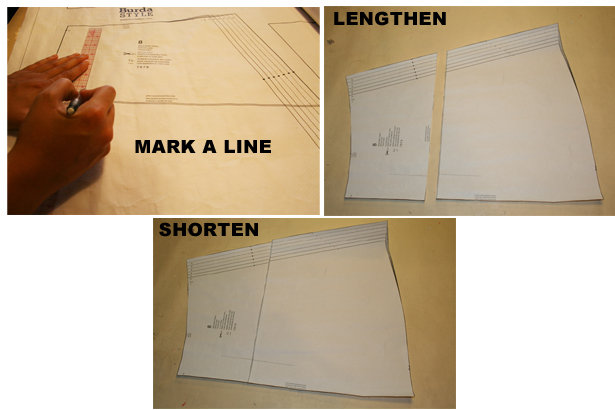 ADJUST PATTERN SIZES
Select your size according to the Burda-dimension table: dresses, blouses, jackets and coats according to the bust size, trousers and skirts according to the hip width. Change the pattern to fit your measurements if they deviate from the Burda-size chart. Cut out the pattern according to your size.
Refer to our 'Adjust patterns for mixed sizes' technique
LENGTHENING OR SHORTENING THE PATTERN PIECES
Our pattern is calculated for a height of 5' 6" (168 cm). If you are taller or shorter, you can adjust the pattern pieces along the lines marked "lengthen or shorten here". This way the proper fit is maintained. Always adjust all pattern pieces along the same line to the same degree.
How to lengthen and shorten pattern pieces:
Cut the pattern pieces along the marked lines
To lengthen, slide the two halves of the pattern piece as far apart as necessary.
To shorten, overlap the two halves of the pattern piece as far as necessary. Blend the side edges.
The dotted line for the zipper in part 1 is only depicted for a size 2 (EU 34). For all other sizes, draw the dotted line at the same distance from the front middle as in a size 2. Pay attention to the length of the slit.
0 Comments on Step 3
Patterns for this Project
Produced by BurdaStyle