New Year, New Dress
Added Apr 6, 2013
Sydney, Australia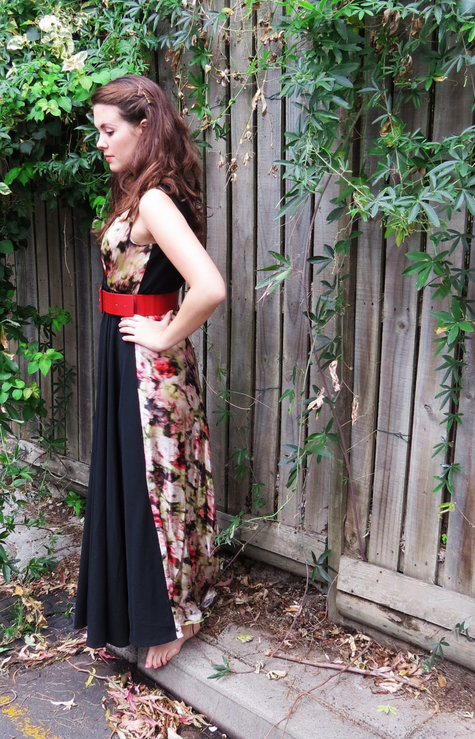 ShareThis
Description
And now it's April and I'm only just getting around to showing it to you.
I whipped this number up in such a flurry! My New Years plans were still up in the air until the day before, so I ended up making it the day of. Sadly that means it's quality took a serious hit! but none the less, it's still wearable.
You may not be able to tell but this dress is made up from four different types of fabric. The yardage is insane, and I didn't have enough black in my stash in the same quality. So I literally used every different black I could lay my hands on. It's an odd mix of Elastane/Cotton/Wool, Rayon, Poly Georgette and then the lovely silk printed panelling.
The hem has dropped massively on the wool side, as the fabric is so heavy; particularly in contrast to the sheer lightness of the silk on the other side. But lets just call it artistic and keep that been you and I.
I actually haven't worked with silk before. It was seriously difficult! Damn, that stuff moves about like crazy. It's as if it was trying to avoid my scissors! Can anyone offer me any tips on cutting silk without it running away?
I used India tape in the hem and seams on the silk side in a bid to try to weight it down, and also to prevent any seam slippage around the hips. I'm not sure if it did anything really, but physiologically I feel like its more sturdy.
Despite its hodge-podge-ness (Yes, that is a word ) it's a very fun dress to wear. It's nearly a full circle and has tremendous body in the skirt. Everyone here knows I'm an absolute sucker for a swishy dress that blows around dramatically as I walk. Clearly I fancy myself a princess.
Read about it at Molly-Made
Difficulty
Intermediate
Categories