New Look 6000: Circly Print Dress
Added Jul 14, 2012
by sertyan
Kota Kinabalu, M...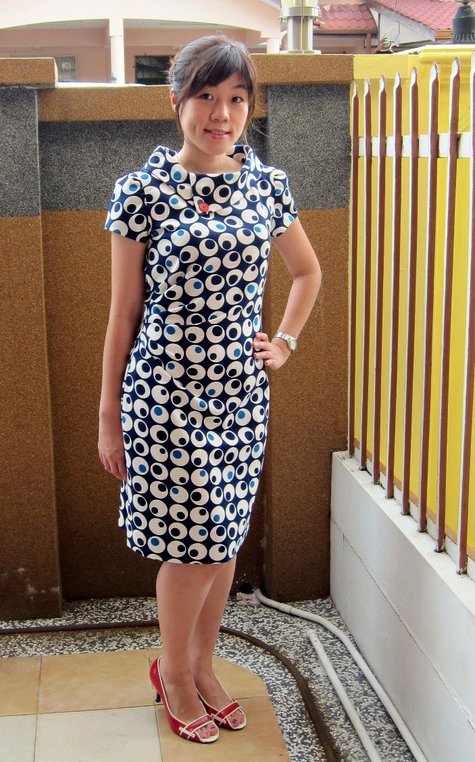 ShareThis
Description
I have been itching to use one of the circly print fabric I bought from Yong Le Fabric Market, Taipei. I decided to make this New Look 6000 pattern but was in a 'fabric dilemma' for a few days as the many versions I've seen of this famous Mad Men Joan Holloway inspired dress were mostly made in solid colours and the favourite colour used was red. I wonder if this busy blue print fabric with circles everywhere would drown all the details such as the pleated side waist and stand up collar. After much self-debate, I went ahead with a print fabric anyway because I couldn't wait to use the fabric, that was it!
Pattern Notes: I cut a size 10 but I adjusted the seam allowances at the sides to fit my body so I would say in the end it's approximately an 8 around the bust and tapered out to 10 and 12 around the waist and hips in the end. I was a rebel and interfaced the collars although the pattern didn't instruct so and I have read a few pattern reviewers said it's not necessary – I prefer sturdy collars.
I wished the instructions could have elaborated a bit further on how to sew the side pleats together at the side waist. Perhaps I was distracted by my Little Terror whilst I was sewing that section, during the first trial I thought I should just fold the top line to the bottom to form a pleat and just sewed across it, but realized later this resulted in visible stitching on the dress. I ended up doing it this way (1) For each pleat, make fold on the top line and edge stitch it. (2) Bring the edge stitched section to fold to meet the second line to make a pleat and then baste to hold the pleat in place. During a light bulb moment much later, I realized that the easiest way to sew the pleat (and the method that the instructions intended) is just to bring the 2 lines together, front fabric meeting, and sew through the line to make a pleat! And there will be no visible stitching when viewed from the front of the dress. I reckon I was the only person having problem in making the pleats as other sewists didn't complain about this section. My version resulted in 'looser' pleats but I guess I really like it as it provides a lot of room along the belly area for me to stay comfortable but yet the side pleats provide a lot of design details whilst disguising stubborn post pregnancy belly flab!
To wrap it up, the dress construction looks tougher than it really was. Sewing on the collars was also a breeze. I really like this dress and pattern and hope to make View A next in a solid fabric next!
You can view this in my blog:
http://sertyan.blogspot.com/2012/07/new-look-6000-circly-print-dress.html
Difficulty
Novice
Categories