New Look 6000 Again: Yellow Gold Dress
Added Jul 22, 2012
by sertyan
Kota Kinabalu, M...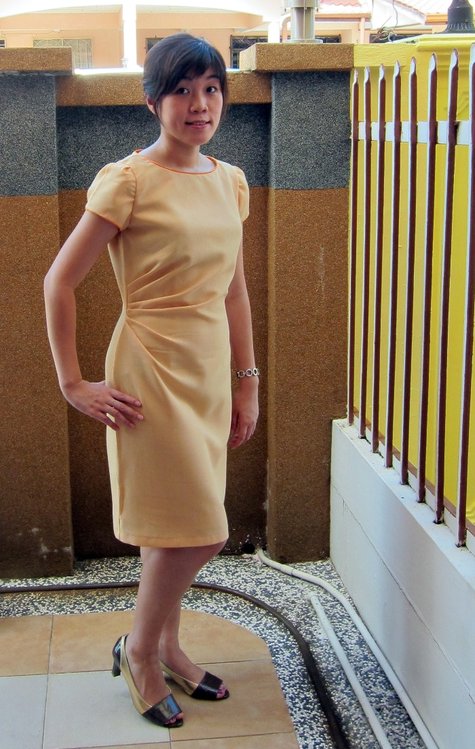 ShareThis
Description
I liked the side pleats waist feature on my last dress so much I had to remake the pattern again, this time in a more subdued solid goldish-yellow fabric, one of the few fabrics that I bought from Yong Le Fabric Market, Taipei. I must admit whilst I was sewing up the dress I couldn't help but felt a little 'bleh' towards it because my last dress was so bold and loud but this solid yellow colour seems a bit boring comparatively. In addition, I also chose View A of New Look 6000 this time where the collar is simpler. Luckily some satin orange piping cord found in my stash came to rescue; I used to pipe the neckline and sleeves, and it did perked up the dress a little.
You can see my first New Look 6000 here:
http://sertyan.blogspot.com/2012/07/new-look-6000-circly-print-dress.html
I cut a size 10 but I adjusted the seam allowances at the sides to fit my body so I would say in the end it's approximately an 8 around the bust and tapered out to 10 and 12 around the waist and hips in the end. As with my last dress, I didn't follow the instructions on doing the side pleats, I did it on my own 'accidental' way (1) For each pleat, make fold on the top line and edge stitch it. (2) Bring the edge stitched section to fold to meet the second line to make a pleat and then baste to hold the pleat in place. The instructions ask to bring the 2 lines together, front fabric meeting, and sew through the line to make a pleat.
I think my way of pleating results in 'accordion' pleats which are looser so it can accommodate to a rounder belly if I were to go for a big buffet / 9 course Chinese Wedding Dinner one day.
I couldn't stand those creases and wrinkles due to the linen blend fabric! I kept ironing them only to realize they will crease up again after a while.
The pattern instructions call for neck and armhole facing. But the linen is too sheer so I had to line the whole dress. I used the main bodice of View E to make the lining so I do not have to make side waist pleats on the lining piece.
As much as I adore the side waist pleats feature I think I have to move on to another pattern or my wardrobe will consist of side waist pleats uniforms in various colours!
You can read more in my blog post
http://sertyan.blogspot.com/2012/07/new-look-6000-again-yellow-gold-dress.html
Difficulty
Novice
Categories