New lining for Mister's vintage coat!
Added Feb 24, 2011
by laurwyn
Tilburg, Netherl...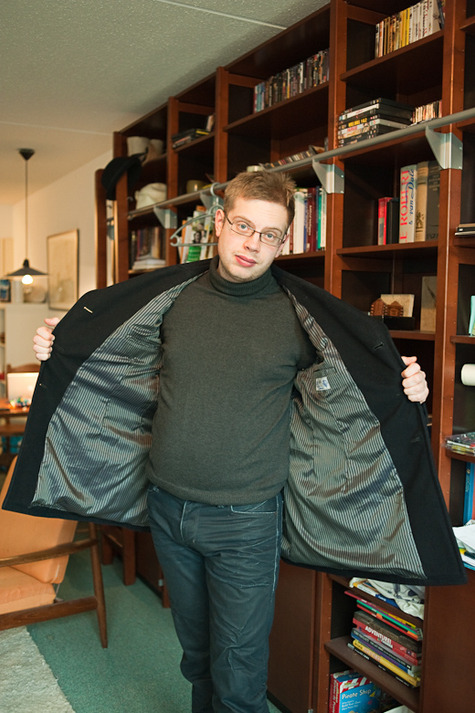 ShareThis
Description
Last year, my Mister found a vintage woolen coat in a second hand shop. It was pure luck! It has a great shape and the outside wool was in a great state. After a bit of research, we found out that it was a Dutch Police coat from the 60's or 70's. We had a few clues on the buttons and on a label that I kept religiously. Anyway, Mister has been wearing it for a year, almost every colder day. The problem with him is that he tends to put things in his pockets, and that is how it started. I agreed to fix his pockets and I took a look yo the whole thing. The conclusion was bad!
- The side of both pockets were torn.
- The buttons have fallen and have been sewn back through the lining, with uneven inside small buttons.
- The lining was worn out along the seams and hems. Used to the cord.
- The lining also became washed out in spots that encounter more friction.
IT WAS TIME FOR A PLAN OF ATTACK!
1) Dry clean the coat!
2) Remove the buttons
3) Carefully remove the lining
4) Trace the seam and hem lines on the old lining and iron
5) Trace the pattern
6) Fix pockets
7) Reinforce the fabric where the buttons will go back and sew them
8) Copy the pattern on the new lining fabric
9) Sew two inside welt pockets
10) Assemble the pieces of the main body and assemble the sleeves (while keeping them off the body)
11) Sew lining along the facing and secure at the armholes
12) Sew sleeves lining from the wrist up and, finally, at the armholes
13) Hem
The process was VERY long but so interesting! And guess who is a happy bunny?
I am only posting pictures of "after". I have documented the whole thing on my blog , if you are interested…
Material Notes
silk for the lining
Difficulty
Intermediate
Categories