Navy 50's bib! bib! bib!
Added Aug 7, 2012
by silvermink
Malmö, Sweden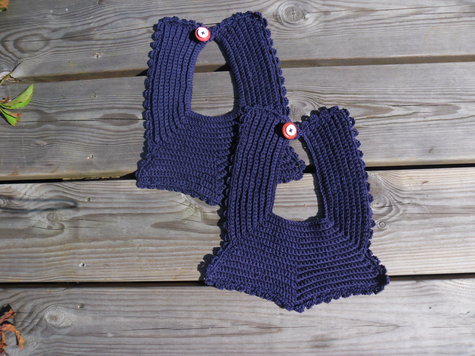 ShareThis
Description
Marinblå 50-talshaklapp! haklapp! haklapp!
Navy 50's bib! bib! bib!
I've just learned how to crochet! Hurray! And since we got babyshocked twice last month – two nieces/nephews on their way to the world on my boyfriends side of the family – I decided I was going to put my new knowledge into use. I found this silly pattern online and just had to try it out.
The pattern is from a 50s/60s magazine uploaded on this blog called "Dagens mönster" (The pattern of the day). Here's the link. It's in swedish but if anyone get's that same itch as I did to try it out, I could help with translating if google translate don't do the trick.
Material Notes
the pattern calls for a 2 mm crochet hook and yarn to fit, but I used a 3 mm hook and a navy cotton yarn that fitted. I don't think you should use worsted weight yarn but that's just a feeling and not a truth! I also used two buttons per bib, one small that fitted over the bigger one.
Difficulty
Intermediate
Categories