My Very BORDEAUX Student Dress 2010
Added Jun 25, 2011
by angelical
Århus, Denmark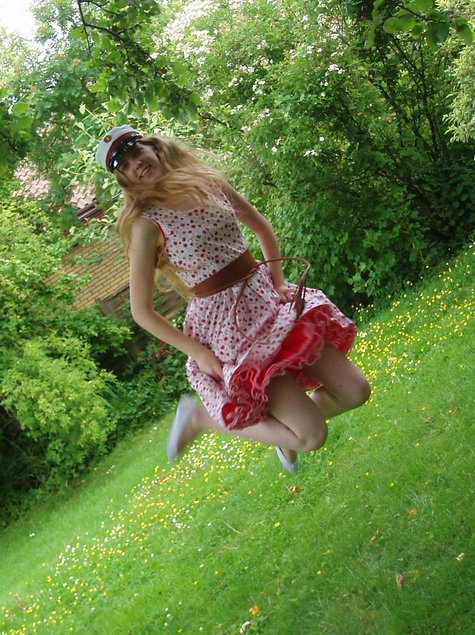 ShareThis
Description
These pictures come a year late. I became student in June 2010.
A detailed description of the student tradition will come next. Go to bottom for dress description.
In Denmark, we have a tradition of student caps.
Back in the 19th century, the cap was worn by young men (and later women) who studied at a "gymnasium" (a kind of high school). The band was bordeaux as the danish flag, and the crown was black for everyday and white for special occations. It became the symbol of the higher class, having wealth to let their children read, but also for the poor students themselves, having no income while reading. Back then, wearing the student cap could mean getting free meals and other free services, as the community tried to support the poor students. The cap was worn everyday while attending the gymnasium.
Today, a student no longer get free stuff for wearing the cap, so wearing it everyday has become pointless. Instead, we get our cap when we finish our last exam, being a symbol of a great achievement and a step on the way to university. The cap-giving has become a smaller family holiday, and we gather the closest family and friends to witness, as a parent or sibling put the cap on our heads as we leave the exam room. Today, most people get a white crown, as it is consideres a special occation. If you have 5 A-level classes or take a special kombination of classes (greek, latin and old world studies), you earn the right to get a black crown, and this is considered a special honor.
Today, there are several types of caps, as every education on level with the gymnasium (STX) have their own type. The normal gymnasium (STX) has kept the traditional bordeaux band, while others have light blue, royal blue, navy, green, purple or pink bands. International studies get a band with flags on it.
The kokarde on the front can be any symbol, depending on school and religion.
My dress is white and red to honor the danish flag, and is made in a flirty 50's style, with fitted bodice and full, pleated skirt. The pattern is loosely based on a Knipmode dress, but is altered beyond comparison. The dress features princess seams, lined bodice, side zipper (invisible, but bright red), box and knife pleats, bias tape, a side pocket and 5 gold buttons and is made in a lovely printed cotton with flowers.
I wore the dress to the traditional "students driving", where we visited the parents of our classmates, while drinking and making a show of ourselves, as we drove in a horse wagon across town. The red petticoat is made this winter.
All pictures are taken with a Olympus Mju Mini (4 megapixel) and by myself (the self-timer is my new best friend)
Material Notes
White cotton with red flowers, red bias tape, red invisible zipper, white and red tread, 5 gold buttons.
Difficulty
Intermediate
Categories