my unique wedding dress
Added Aug 9, 2011
by shinanhua
Reading, United ...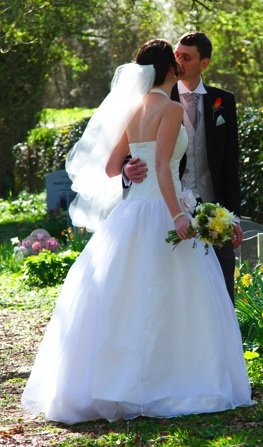 ShareThis
Description
I couldn't find a dress pattern I loved anywhere, or even a picture that fitted what I wanted, plus I'm 6" tall and thought with all the adjustments I'd have to do to any pattern to make a dress fit I may as well learn to make my own pattern from scratch. Looking back I was probably completely mad to think I could do this, but I knew my mum had made her own wedding dress and something in my subconscious seemed to have set its heart on doing likewise, despite never having imagined I'd get married at all! I was completely stubborn about it and thank goodness for my family being supportive though they must have feared it could prove a huge and expensive mistake!
Sorry I'm not posting the pattern online for others to copy – not out of meanness but I don't know how and also because I custom made this to my body and I really feel that's essential if you're going to make a wedding dress, and I am not an 'average' shape – I can only tell you about what I did and encourage you to see what you can do.
First, in Oct 2010, I got myself a solid UK size 12 dress form, wadded it up to my shape (I was nearer size 14 when I started but in the end went down to 12 with the excitement of it all, so when I finished the dress it was too small for the wadded dress form!) and made a cover (my first attempt at a body block), then made a body block in calico to start the pattern. I got a friend to help me pin up the back where I couldn't reach. From this I cut out my bodice, to which I added a halter strap because even though it wasn't going to fall off me I really hate this current fashion for strapless everything and wanted more of a fifties look, though with a full length skirt.
I bought a ready made Jupon 163 bridal petticoat (I'd tried on a few dresses in a boutique bridal shop which used this petticoat and I loved the shape on me but didn't feel like making that from scratch too!) and draped calico over this to work out the shape of my skirt panels, gathering a lot at the back 2 panels. It was heartbreaking taking the 'finished' toile dress apart and very hard to get around to making the first cuts in the silks from this pattern, but once I got started it was actually not so hard. Except for the fact that I put my back out leaning over the table doing all the cutting out. I was out of action and off work for a week as I couldn't sit or stand!
I had tried desperately to source fair trade organic fabrics but there was so little choice and nothing available in taffeta or organza, the fabrics I fell in love with. So what I did was buy more expensive high quality silk taffeta and organza from reputable makers in Italy and France (via a good haberdashery shop in London's Soho) so that at least they were coming from the EU rather than somewhere in Asia where I couldn't be sure the workers were treated right.
I had to learn lots of new sewing techniques, using books from the library and online tutorials of varying usefulness and a lot of common sense and invention! This was the most fun. I had never even sewn silk before, but I also taught myself to make a boned bodice – learning perhaps rather adventurously on the actual dress, rather than doing try outs – but it worked and fitted beautifully (though I did lose about an inch in the last couple of weeks before the wedding so it wasn't skin tight and there was a slight gape which only I noticed). I used French seams throughout the skirt. I inserted hook and eye strip down the back, making a little placket on the inside, and made rouleaux loops and covered buttons which were unnecessary perhaps but I enjoy them. I made delicate little French tacks between the skirt layers to stop the organza flying away if it was windy, and also to facilitate the lifting up of both layers of skirt a few inches via internal blue ribbons so that my feet were free to do some lindy hop in the evening.
There was several days worth of hand sewing to do at the end, and it was really important to take proper breaks from this so as not to seize up! I finished the dress 2 days before the wedding (the first week of April 2011), just in time, but felt pretty in control of timing to the end. I left non-essentials til I knew I had time to fuss about with them. It was wearable the week before it was 'finished' so I could really relax at that point. I also made my own veil using some nylon net, a plastic hair comb, an awful lot of tiny hand stitches, and a handful of pearls from a broken bracelet which I sewed on to adorn the top of the comb. This was all make it up as you go along stuff, but I'm so glad I didn't go out and buy one – mine was such fun to make, looked lovely and only cost me about £8! I had time to do masses of other wedding DIY – like making 32m of floral print bunting, a collage seating plan, producing all our own service booklets, menus, table decorations, homemade iced cookie favours, pew end flowers and foliage, wedding cake (well that was really done months beforehand and just iced at the last minute), etc. All so much fun and looked so beautiful.
My mother in law knitted me the most stunning shrug in kind of oatmeal colour silky fluffy kidsilk wool using a pattern I found on the internet via Ravelry and bought for £4. It turned out to fit with my halter neck dress as though they were designed for each other – I was so delighted. I love the shrug and can use it again and again – which is more than can be said for the dress, now dry cleaned and snugly packed away in a giant box because I'll never be able to part with it!
Material Notes
natural calico (4m, but it was VERY wide) for toile pattern and interlining of boned bodice,
French ivory silk taffeta (7m, 140cm wide, at £35/m) for the whole dress,
Italian ivory silk organza (6m, 140cm wide, at £32.50/m) for the top layer of the skirt only,
white rigiline polyester boning, 2m,
Jupon 163 bridal petticoat with one hoop,
ivory silk thread (4x 80m),
white polyester hook and loop tape (50cm), and lots of other little bits and bobs, such as a couple of silk flowers which I bought as hair accessories and took the backs off so I could sew them to one side of my waistline as a finishing touch.
Difficulty
Advanced
Categories
1 Reply