My reconstructed pink skirt
Added Jun 14, 2010
Winnipeg, Canada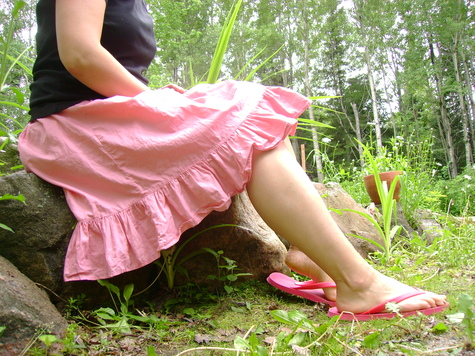 ShareThis
Description
I picked this shirt up at Old Navy for a paltry 97 cents a few years ago, along with some others. They have sat, unused for all this time because I realized I found they rather looked like I was wearing a lampshade. That and as I have already been pregnant and gone through maternity clothes, have no desire to wear anything that remotely looks like maternity wear, even if it isn't.
I was inspired for some reason a month or so ago to make it into a skirt (I always thought it would be a better skirt than shirt). I ripped off the sleeves and reworked the top. It ain't pretty, but I don't intend to wear it with the waistband exposed (covering up my sorry sewing skills). As it is, I measured it to go over my hips, and it seems to still be a little too big. If I feel so inclined, I may take it in a bit.
I feel the pressure to hold up to the other pics on Burdastyle! We were out of the city this weekend and I thought it was a nice opportunity to get some pictures. I actually took most of them myself when I had a few precious minutes to myself. It was kind of fun playing with the timer and seeing what I could get. Still nothing like some of the other pictures on here, but it was fun trying! I included a before picture because I always love to compare the before and afters of reconstruction. That's the best part.
I think I need to go digging for the other shirts I bought at the same time…
Material Notes
Cotton flouncy shirt, thread
Difficulty
Novice
Categories