My posh suit using saville row suiting
Added Dec 4, 2011
by sewtake2
Christchurch, Un...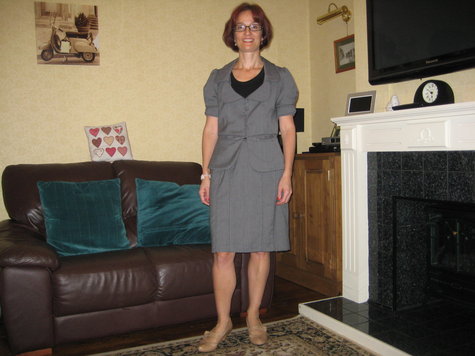 ShareThis
Description
Vogue V1169 Rebecca Taylor designer suit pattern.
In the summer I bought 2.5 metres of saville row suiting at a car boot sale for £5. I spent the next couple of months deciding what to make with it before my husband chose this pattern for me (I'd never have been brave enough to choose it!).
I have made it over the last two months doing the odd bits here and there. It really helped having the pattern instructions with pictures/diagrams to show me what to do (I do still struggle a bit trying to make Burda magazine patterns using only the written instructions!)
The other bits and pieces (thread, zip, lining, buttons etc) cost £21 so I'd like to say the suit only cost £26……but I persuaded my husband to let me have my Christmas present early and I have a new Brother sewing machine (plus free dress form dummy) to add to the cost!
I am generally quite pleased with how it turned out apart from the welts on the pockets which I struggled with. By the time I had the piping sorted the welts were not quite right but I tried my best so I'll just learn to live with them.
Also I''ve never used 100% wool fabric before and I think I may have stretched the wool a bit when I pressed it….still you live and learn-I may never get any wool fabric at a car boot sale ever again!
I haven't had time to make the corsage/flower yet but I plan to wear it to work on Friday because I'm involved with interviews for a senior manager and I will hopefully look smart for the occasion.
I found the suit really comfortable when I wore it to work-I'd really like to make up vogue 1169 in summer weight suiting fabric for the summer.
Material Notes
100% wool saville row suiting
Difficulty
Advanced
Categories