My Peaceful War Tellerbarret
Added May 18, 2011
by angelical
Århus, Denmark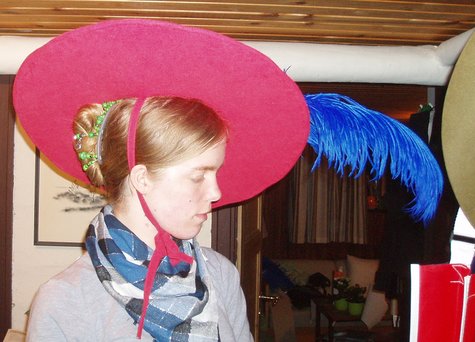 ShareThis
Description
This hat is but fit for an reiklandish highborn! Yet, I, a simple country maiden, will wear it with pride, as I, with needle and tread, aid the soldiers in their bloody fight over gold and honor.
The hat, called a "tellerbarret" or a "platter hat" is made to be worn at Krigslive VII (War LARP seven), where I will play the cheerful, young seamstress in a peaceful village, close to the battlefield where the armies of Reikland and Marienburg have met to fight over gold and honor. Who will return to their master with news of victory? Who will stand in first line as the cannons enter the battle? And – most importantly – who will ruin their clothes and be in need of a kind seamstress?
Only time and the GM will know!
The hat is made of the same blue linen and currant nettle as my "Peaceful war kampfrau dress", and will get 3 big, blue ostrich freather on top of it.
It is stiffened with 2 layers of heavy Viledon (the same as peltex) and a ring of thick cobber wire and is fastened with 2 ties. The hat is 50 cm in diameter.
Sorry about the bad pictures, it was 1 o'clock in the morning and have no time for better pictures. They might come later.
Material Notes
Royal blue linen, currant colored nettle, viledon, cobber wire
Difficulty
Intermediate
Categories