MY NEW YEARS EVE COLOUR THIS YEAR IST SMARAGT!!
Added Dec 29, 2015
by Mirei71
***, Switzerland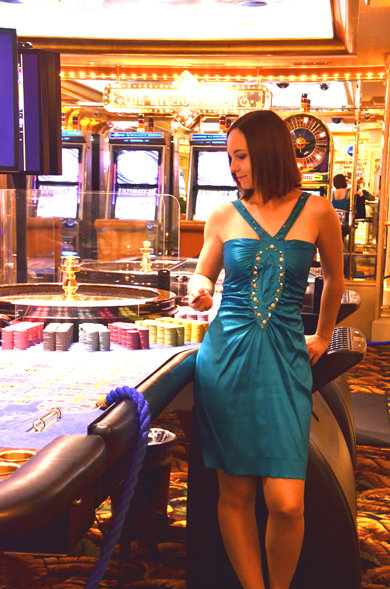 ShareThis
Description
To be honest I still don't know what I/we will be up to on this New Years Eve party. We are not the kind of family that go to glamorous parties on those nights. We rather invite some good old friends to our house and eat ourselves to the limit, wearing comfortable stretchy :-) garments. We let the kidz play around the house and shortly before midnight we prepare some fireworks and champagne. Our friends usually stay for the night and the night after. We eat all the remaining food and soak in all the easyness we have missed throughout the year. By saying that I don't want to make you believe that I don't like cocktail dresses and sparkling jewellery, actually the opposite is true! I love it!! But at the moment, the occasions to dress up like that are a bit missing. So I decided to dress up my niece for this New Years Eve post and sewed her this smaragd green dress including matching clutch!
The pattern for the dress is a burdastyle one. NR. 111C-072010-DL. The clutch is my own design. I have chosen a very noble fabric, which is not silk, but feels like silk and is kind of thicker and a bit stretchy. I bought it at Apropos in Zurich. Unfortunately I cannot put a link here, since the store has no actual site. But anyway it is a really nice place to go if you're looking for exquisite fabric! I embellished the front up to the stripes with some strass and jewellery, sown by hand. The hem is also sown by hand as I didn't want any stitches to be seen on the frontside. For the first time I will put a "goes also with" at the bottom of the pictures.
The shooting: the Casino Schaffhausen was very kind to let us in before opening hours, for a casino this is quite unusual, so I'm very grateful! There were three of us. The model, the photographer and me. Back entrance, signed up and staff on our side, we were allowed to shoot! We had 90 minutes before the place would open and needless to say: we were quite nervous! The atmosphere of a casino is very similar to how we feel at the beginning of a new year. The die is cast, decisions are being made. we win, we lose. The uncertainty and hope with which we enter a casino room has a similarity with the one we have when we put the first step into the new year. And when the year ist over and the "rien ne va plus" is spoken, we look back at it and judge it, hopefully positively. I wish you all a healthy, happy, sewfully and inspired 2016!! See you in my next post! Cheers!!
Material Notes
like silk but thicker and stretchy
Difficulty
Advanced
Categories
Feb 15, 2016, 08.38 AMby SassyT

2 Replies

Jan 2, 2016, 05.12 PMby SassyT

1 Reply

1 Reply

Dec 31, 2015, 03.46 PMby SassyT

1 Reply

Dec 31, 2015, 02.58 PMby kisses

1 Reply

1 Reply

1 Reply

1 Reply

1 Reply

1 Reply