my Goji shorts
Added Mar 27, 2017
by kelerabeus
Beograd, Serbia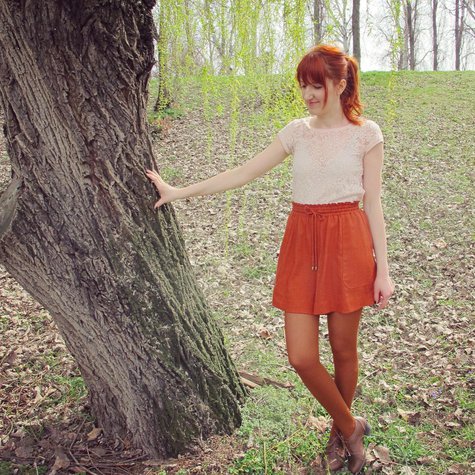 ShareThis
Description
This is my version of Goji shorts, the latest pattern from Deer and Doe.
While I always loved feminine and slightly retro aesthetic of Deer and Doe patterns I never had a chance to try one, so when Camille asked me if I would like to review one of the patterns from their upcoming spring collection I was more than happy to say yes! Plus, with this collection Deer and Doe introduced PDF patterns – which meant that I could download my pattern and start working on it pretty much right away!
The pattern I received was Goji – a high-waisted summer skirt or shorts. After seeing the technical drawing my initial instinct was to go for the skirt because, in all honesty, I just wasn't sure the shorts would look flattering on me. With the elastic waistband and a drawstring combo – I was afraid it would end up looking like a boxer shorts! But going through my fabric stash I saw this rusty orange linen bland and in a moment I could envision these shorts, with a drawstring with gold metal hardware, so I thought what a heck, let's give it a shot. And in the end I'm so happy I did because I absolutely LOVE them!
I did whip up a quick muslin first (I wouldn't dare to cut into this gorgeous fabric without one!) to help me determine which size to make. My waist is a size 40 and hips are a size 44, but due to the loose shape of these shorts I didn't thought that I need to grade up a whole two sizes for the hips. I ended up making straight size 42 – I had to grade one size up for a waist so that I can pull the shorts over my hips.
As I've said before, this was my first time sewing with Deer and Doe patterns and I was very curious to see do they live up to the hype – if you sew, chances are you're already familiar with annoyingly good reputation that follows this indie brand, as well as a small army of loyal fans. And after finally trying one of their patterns I can understand why! The pattern is practically impeccable – drafting is on point and instructions are excellent. I have to admit, I was very surprised that I liked the instructions that much! I work mostly with Burdastyle patterns and I'm very used to their (almost nonexistent) instructions – I'm not a fan of hand holding and over explaining that is usually present with indie patterns so I tend to ignore the instructions altogether. But to my surprise, I found myself following Goji instructions step by step, as written! The construction is very clever and explanations are short, concise and followed with an illustration – as simple and as perfect as they could be. I was very impressed with that part.
And I was also very impressed with how much I love my finished Goji shorts! As I said, I didn't have very high expectations at the beginning so I was pleasantly surprised when that took a turn, and in a big way! These shorts are so flattering and easy to wear, I'm positively smitten. I like how high waisted they are, as well as the fact that they almost look like a skirt – but with all the benefits of the shorts! I also love huge pockets (don't we all!) and hem facings – once finished, everything is very clean, polished and professionally looking.
In a million years I wouldn't predict that I'm gonna like this garment as much as I do and I'm so happy that I went with the shorts version. But let's not kid ourselves, I'm probably gonna make the skirt as well :)

Difficulty
Novice
Categories