MY FIRST SEWING EXAM
Added Apr 6, 2016
by Mirei71
***, Switzerland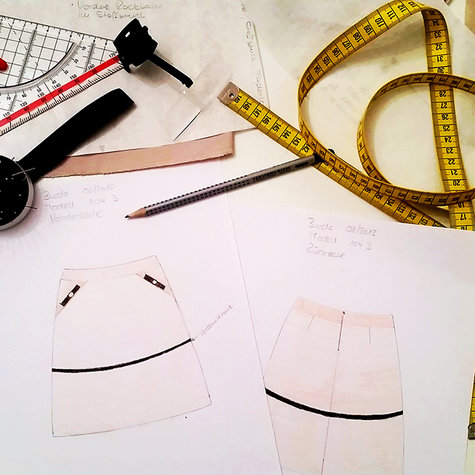 ShareThis
Description
This week's subject? My sewing exam. To be exact it is a midterm exam, which will be taken place this Saturday. So here's a little something about the preparations to it.
The task for the exam is to sew a skirt from a to z with self-made tutorial. When I was 20 I promised myself to never ever ever ever ever get myself in the situation again, where I have to absolve an exam, because I am just really not the type for exams. I get nervous by the only thought about it and I don't like the feeling in my belly during exams. Well… I was wrong. As the simplest of proverbs says: never say never. Here I find myself, mid 40, standing in front of this thing I will have to manage by the end of this week. OK I am well prepared (I have no other choice have I :-)) so everything should go well. Needless to say: wish me luck! :-)
I had to design my skirt by myself, although we were allowed to take an existing pattern to start from. I decided to pick out the skirt of the Febraury-Burda 2012 out of my huge :-) Burdacollection.
Cut it here, seam it back together there, change pocket design, all in all I am happy with what has come out of it and my prototype I sewed at home has turned out very well. I am happy because I have spent the whole Easter Monday at home sewing like mad while the rest of my family were enjoying the spring weather outside in the sun. With the time clock next to me I stopped the time to know how long it all takes me. I was not running or hurrying but I was soooo concentrated between cutting table. sewing machine and iron board that I didn't noticed the moment I tucked the measuring tape I had around my neck underneath the iron. Before I could react, it had already melted on the hot steel… Coco Chanel would have laughed out loud seeing me standing there, since she used to put her measuring tape toujours around her neck, but of course it would never happen to her :-)
So to honor Madame Chanel and thinking of her, I just enjoyed some Chanel Youtube's in the evening . I imbedded my favorite one on my blog this week. I can watch this one over and over again.
Who knows… maybe one day I will be sewing a Chanel jacket for me…
Have fun watching, stay sew-focused and have a great week!
I'll let you know next week about the outcome of my exam (close eyes and run through… no, better leave the eyes open :-)).
Big Hug from my atelier to yours. Bye!!
Material Notes
Cotton
Difficulty
Intermediate
Categories