MY FIRST SEWING COURSE¨!
Added Apr 17, 2016
by Mirei71
***, Switzerland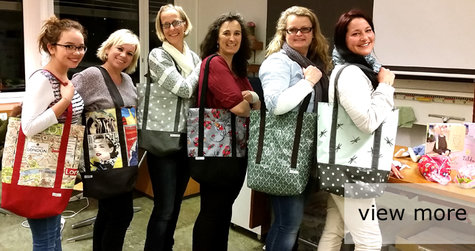 ShareThis
Description
Hello and welcome back! First of all I have to tell you that my exam has been postponed to the end of the month for the teacher's personal reason. So you will hear about it in due time.
Today I'd like to give you a sneak peek inside a special sorner of my heart. The ones of you that frequently read my blog might just know what I am gonna talk about.
My all time big dream is is running a own sewing atelier, sewing studio, sewing caf, sewing place… actually the name is quite irrelevant. What I dream about is a place where people meet for sewing an creating wonderful things, exchange of passion and inspiration and whom I will be able to help out and give good advices. A place to feel good. A place I can call my own, where I can lock the door at the end of a busy day with a few unfinished and a few finished projects still lay on the table over night, waiting for the next day. A place where creativity and manufacturing is taking place. Sewing courses? Selling sewed things? Create sewing patterns and sell them? Sewing coach? Yes. Maybe all ot them, maybe more, maybe less. We will see. The path to my dream is no shortcut though. It is a steep, curved path full of stones and that's just how it should be. Not too comfortable and incredibly educational. We start off very small with afternoon sewing in a friends group at my house (see my post of 16. january) to be followed by my first "real" sewing course in March. I feel so lucky and blessed that I can use the sewing room in our primary school. This is just amazing, I am overwhelmed. After having had a short instruction by the school sewing teacher I am ready to take off! 2 evenings are planned and the project is sewing my shopper (posted earlier on) together with 7 ladies who subscribed to my course. Of course I am afraid… what if one of them cuts the fabric the wrong way before I see it? What if one of them gets too nervous and unpatient? What if the mood is not good at all? One hour before start I unlock the door to the room and I face one of these never-forget-moments. Here I stand, in this sewing room that used tob y my school room when I was a little girl (still smells the same) and I am preparing for my first sewing class. I freeze the moment by taking a photo with my smartphone. My hands are shaking. Then I start preparing all the things, the sewing machines and put all materials ready on the table. That helps to calm me down a bit. But it is not before I hear the voices of my ladies in the corridor that I relax completely and realise that they will be learning from ME tonight! And so I make the first step right into my dream…to be continued.
I will post some shots of the two evenings and also of the session I had with my girlfriends at home. Let me know about your dream you are following. Have you done the very first step yet? I wish you a great week, stay sew-focused and have fun! I send you my hugs from my sewing atelier to yours. See you in my next post. Thanks for stopping by. Bye!!
Material Notes
Cotton
Difficulty
Novice
Categories
1 Reply

1 Reply

1 Reply