My first completed pattern project!
Added May 20, 2011
by NeederMoo
Pascagoula, Miss...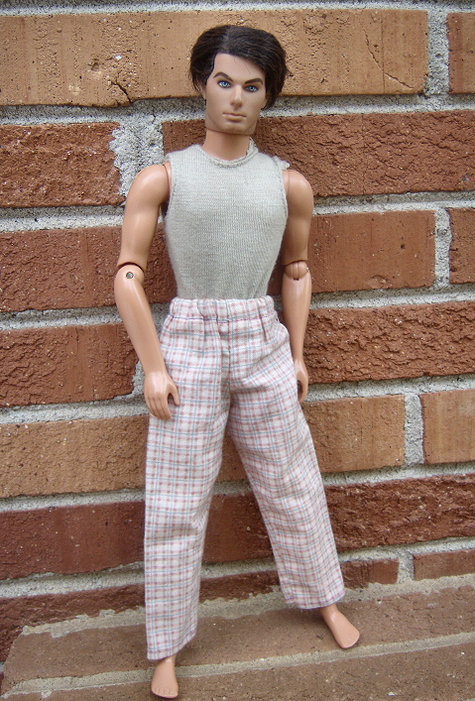 ShareThis
Description
These pj pants for my Ken in 2007. It was the first sewing project I'd ever done with a pattern.
The Pattern piece from the very top of the waist to the very end on the leg should measure eight and a half inches (8 1/2") when you print it out.
Instructions:
1. Cut two (2) of the pattern piece. You can mark along the seam allowance lines if you like. DO NOT use ink on the fabric if you mark the lines. Only use pencil. If you use ink it will rub off onto the Ken's legs.
2. With right sides together, sew along the top side seam (Which will be the front in the finished project) with half inch (1/2") seam allowance. (stich placement drawn on pattern piece) Only sew one (1) side. Don't sew down the entire leg.
3. When you unfold the fabric, the seam you have sewn should be in the middle. Fold the top of the pants down about a half inch (1/2") toward the back and sew it down as a casing. (Leave enough room in the "hem" of the waist for two-eighths of an inch (2/8") elastic to slide through.)
4. Measure around your Ken's waist and add seam allowance for the size of the elastic. If you don't have the Ken handy, the elastic should measure about five inches (5") for the 1980s/1990s/Early 2000s Ken dolls. (Pants should be cut slightly longer for newer/skinnier Ken dolls.) Attach a small safety pin to the end of the elastic and slide it through the opening in the "hem" of the waist. Stich the ends of the elastic to the ends of the waist.
5. With right sides together, sew the back seam (just like the front seam) with half inch (1/2") seam allowance.
6. Hem the ends of the legs. (Turn up the fabric about half an inch (1/2") and stich.
7. Shift the pieces so that the two seams (Front and back) align.
8. There is an image for this last step. Sew the inside seam of the pants about five-eighths of an inch. (More or less depending on your taste/Ken body size)
Material Notes
1/4 of a yard of calico print fabric
Difficulty
Novice
Categories
Patterns for this Project