my favorate jean!
Added Nov 19, 2008
by juebejue
San Jose, Califo...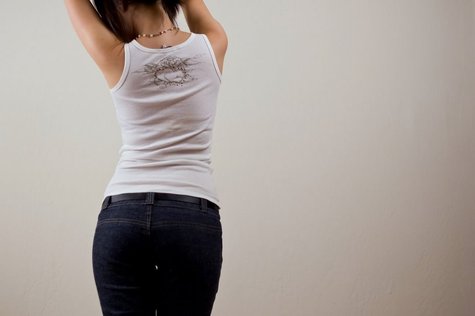 ShareThis
Description
Like CarotteSauvage said, I dont think I can ever buy jeans again. Anita patterns are awesome :) I shortened the butt part to make it more low waisted and to compensate for my shortness. Shortened the leg and widened it at the bottom — I wasnt a fan of the tight crunchy look.
Tada! I love this jeans! it fits like a dream and oh so comfy. I am going to make a grey one!
update:
I had been wanting to do a how to, but i havent found the right material for my next jean :( so im going to just try to explain how i did this here.
1. to make it lower waisted, note that theres a "shorter-longer" mark near the butt of the pattern. make that shorter! to make sure you dont make it too short/long, compare it to the low waist jeans you like and approximate the length
2. to fit the jean to your body, make the jean, but leave the two seams on the side of the jeans open. (so the seam that your hands align with if you just leave your hands dangle). finish other parts of the jean (remember to top stitch the seam that aligns with your inner thigh! it would look pretty)
3. once you are done with that, stitch the outer seams — just one of them. do not cut off the excess. try it onto yourself to see if it fits. most likely, it is a little loose. stitch again, this time leaving more room between the edge of fabric and the thread. i did that like 4 times until i got the perfect fit. then i measure how much room i took and stitch up the other side.
tada!
i guess i could have just written a description!
Material Notes
jeans
Difficulty
Intermediate
Categories
Credits
my fiance for making me do all the "gap commercial" shoots.
Jan 16, 2009, 12.48 AMby cocoon

Nov 19, 2008, 06.53 AMby mirela

Nov 19, 2008, 06.39 AMby lybu

Nov 19, 2008, 03.23 AMby anajan

Nov 19, 2008, 03.07 AMby bola

Nov 19, 2008, 02.46 AMby akwa

Nov 19, 2008, 01.53 AMby mjb14