My Envy Sandals Makeover
Added Sep 1, 2011
by fabled
Windsor, Canada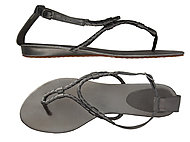 ShareThis
Description
Wrapped hum-drum leather sandals with colourful and bulky fabrics to make something new and exciting and completely interchangeable!
This project was inspired by 2 things. One, Burda Style's DIY: http://www.burdastyle.com/blog/diy-to-try-remake-your-own-sandals
And 2, my friend at work who has the most amazing sandals that are wrapped in felt with big clunky jewels that she bought at some retail store or other. Take my word for it, they are possibly the neatest sandals in existence.
Thus inspired, I woke up one morning (on my birthday) and rolled right out of bed and got down to business, creating something that I could finish before I had to leave for work, and wear as my own special gift to myself!
I wasn't thinking about blogging about this until after, so bear with me.
What I did was raid my cupboard for some quilting cottons.
I cut three long strips of different patterned fabrics for each sandal. Then for each strip I folded the ends inward and stitched to fight against fraying.
Next, I overlapped my three coloured strips on one end and pinned. Then about 2.5 cm up I stitched longways about 6 machine stitches. This keeps the strips stuck together and is helpful in getting started.
Done with my machine, I went downstairs with my sewing kit and collected my sandals.
I took the sewed end of my material and folded with my stitches around the thong bit of the sandal as close to the sole as possible. Then I hand-stitched the ends closed around the thong.
Then the fun!
I braided my three pieces upward and just generally wrapped the rest of the sandal up. When I reached the sole of a strap or the end of my bits of fabric, I did a quick hand-stitch to hold everything in place.
That done, I took out some spiffy turquoise/green thread and stitched and wrapped it all around the fattest bits of the thong to give some shine and shape.
As an afterthought I collected a pair of snap earrings that I bought ages ago at a thrift store and snapped those babies on.
Ta-Da!
So simple! And because it's not glued, if you ever want to switch things up with some new material or jewelry, you can! Sew some beads! Get wild!
I've gotten a lot of compliments on them already.
Hope you guys enjoy!
Material Notes
Use tough sturdy materials like cotton, denim, corduroy, polyester…. Really anything that your feet can rub comfortably against.
Difficulty
Novice
Categories