my Daphne day dress
Added Jun 19, 2017
by kelerabeus
Beograd, Serbia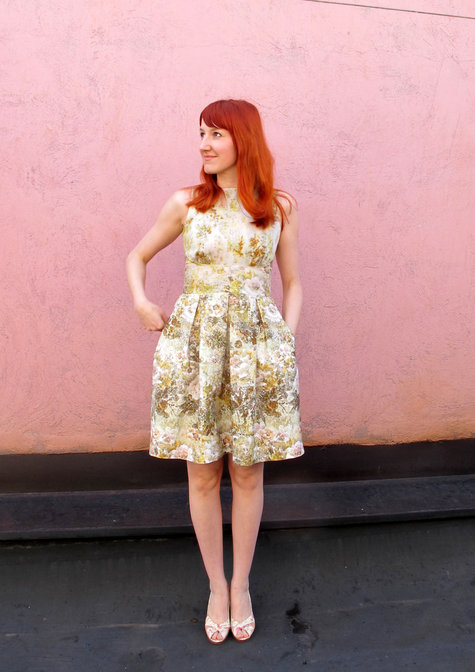 ShareThis
Description
I made this dress way back in February when spring was barely on the horizon, and it's been sitting in my closet ever since. Personally, I prefer cold weather and for me summer arrival is the most dreaded event of the year (I don't function well on temperatures above 25°C!), so having new pretty dress waiting to be worn is at least something to look forward to! If you ask me, pretty summer dresses are the only good thing about summer.
But enough of me whining – let's talk more about this prettiness! (if I may say so myself :D) This is Daphne Day Dress from Sew This Pattern and it came out of another one of those situations where I saw a call for pattern testers on Instagram, LOVED the design and signed up immediately hoping I'll get the chance to try it. And luckily I did! I don't mind volunteering my precious sewing time for the sake of pattern testing, as long as I get to try awesome looking patterns like this one! And I'm quite happy with how my test version of this dress turned out too – the fit is spot on and I thought that the style is very me.
I really like this design – basically it's a simple fit and flare silhouette but with lots of interesting little details that make it really special. I'm particularly fond of the look of the bodice, with curved midriff and gathering under the bustline – I find it to be very flattering and slightly vintage looking. And of course, there's the cut-out back detail. So cute!
The instructions call for fabric with a little bit of stretch and I had this cotton blend in my stash that looked like it could be perfect for it. This fabric was one of those weird finds from a remnant bin – it has a beautiful water lily print but its all messed up at one end of the fabric, with colors bleeding and fading into this abstract mess. As I didn't have a lot of it I had to use the part with misprint for the bodice but I don't mind it – I quite like it actually, it reminds me of one those Water Lilies paintings by Claude Monet.
Categories
Jun 26, 2017, 07.14 AMby janene

Jun 20, 2017, 09.19 AMby Beccki