My Cambie (My first project!)
Added Jan 6, 2014
by Ladybug Noir
Southern , Calif...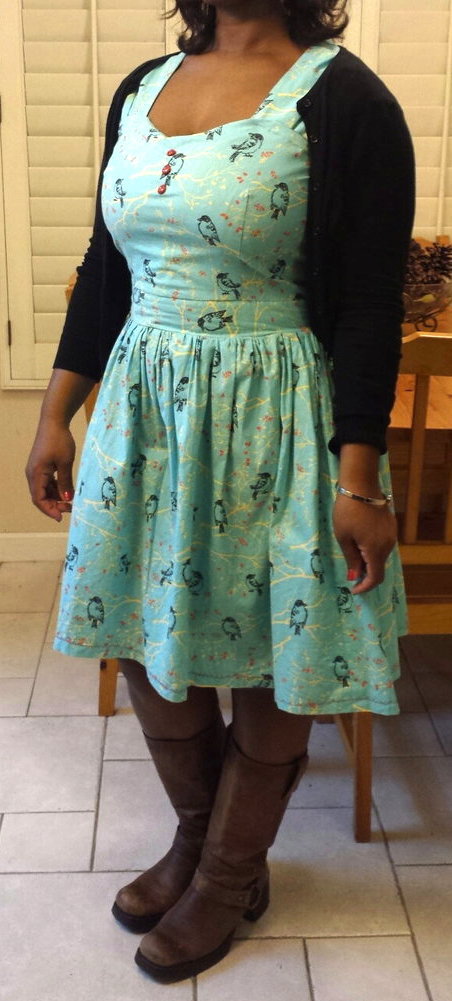 ShareThis
Description
So I finally finished my Cambie dress I recently got from Sewaholic ! This is my first complete project and though it has it's eccentricities and flubs here and there, I adore it! :) A bit wrinkled and I attached the sleeves wrong, but I'm attaching a few pictures.
All throughout making my Cambie, I kept thinking I'd make a mistake that would completely ruin the ENTIRE dress and I'd have to scrap the whole thing in frustration. I nearly expected it to happen. But then I realized I was creating my dress with a feeling of impending catastrophic doom because it's how I often view my life. The sinking feeling that no matter what I do, something will happen to change everything and take everything I've worked so hard for away from me. But just like in sewing or anything really, we make small mistakes, hopefully catch them and learn from them before they get too huge, and carry on. And things just happen out of our control that we didn't plan on all the time. We just keep pushing.
Anyway, that's my 'everything I need to know I learned sewing' moment. Enough of my blah blah. This was a fun dress to make and I'm sure I'll be making another soon. xo
Material Notes
Fabric is a Keepsake Calico from Joann's called Birds on Tree Branches in Turquoise, interfacing used on belt, apparel lining, and ladybug buttons from Joann's also.
Difficulty
Intermediate
Categories
This project is based on
Make it