My BS Handbook Skirt
Added Dec 19, 2012
by sewenggirl88
Rapid City, Sout...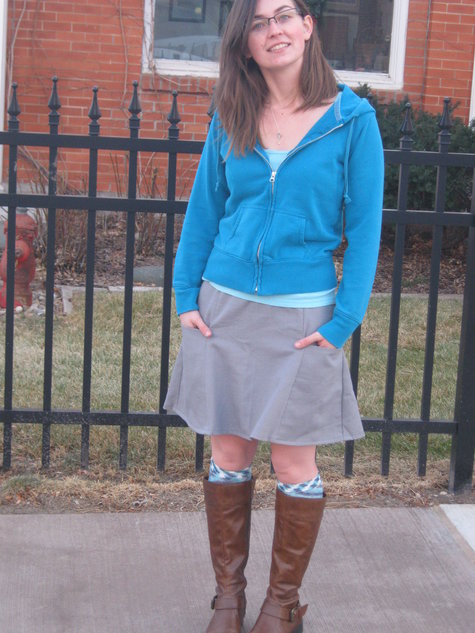 ShareThis
Description
I finally got around to making something from one of the many pattern books I have! And for more pictures and construction notes check out my blog Toferet's Empty Bobbin.
When the BurdaStyle Sewing Handbook first came out I was a little skeptical because I was really not liking the U.S. BurdaStyle people at that time (it was morphing away from it's original user driven content, super lame) and I didn't like any of the original pattern designs shown. But eventually as people in the blogosphere started getting their contribution creations back from BS and I saw all the cool things they did with them, it looked like a fun book.
The book is geared much more towards beginners, which I am not. There are so many beginner sewing books out there, if I was just starting out it would be overwhelming, but there is nearly a paragraph describing each tool recommended and descriptions of how to do basic things with a sewing machine or trace patterns. And lots of nice photos and quotes from BS members, so that's nice (even if they're all extremely stylized and cherry-picked). Honestly I just skipped over most of it, my favorite part is the pictures of all the different member variations. I wish they'd given more instructions with those, or at least posted the tutorials online.
I traced my usual Burda skirt size of 38
I like that it's simple enough for lots of different variations and there are lots of ideas for modifying the pattern, but it's also a great basic design. The fit is really good, Burda patterns are usually good so I was hoping the book patterns would follow that theme. This skirt is the best fit I've ever gotten on any skirt I think.
I did not make the outer skirt layer and added some pocket panels on the front sides. One of the variations shown of the skirt pattern made by BurdaStyle members had pockets like this, I think nikkishell made it, and it was my favorite variation. All I did to make them was cut an extra side panel but cut it off at the shorten/lengthen line about 2/3 of the way up, lined the pockets with some novelty cotton, and proceeded like usual. The extra fabric on those panels makes the front stiffer than the rest of the skirt, but that's ok.
This could be a great pattern for recycling old jeans or similar (I have a pile of Mr. Husband's khaki pants with holes in the knees that he can't wear to work anymore) because of the fairly small pieces.
Difficulty
Novice
Categories
0 Comments