Mousy Inspiration
Added Dec 8, 2014
by fmsarawlove
What Happened To...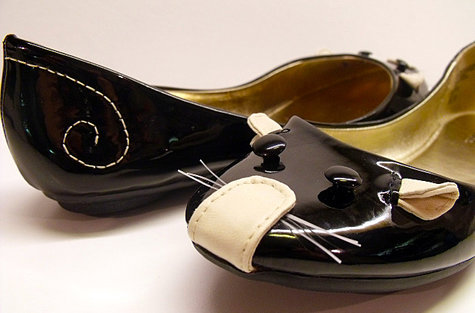 ShareThis
Description
Somehow, while cruising the internet for gift ideas for the holidays, I stumbled upon (and subsequently fell in love with) the Marc Jacobs mouse ballerina flats. Unfortunately, I'm a girl perpetually on a budget and even though this is the season of generosity and overspending I just couldn't convince my frugal self to shell out $200 bucks for those adorable flats.
The ensuing disappointment quickly transformed into DIY determination. With a little time and careful planning, I created these for under $20. Most of the supplies I had on hand. I only had to buy the shoes and buttons.
Hindsight is 20/20: if I were to make these again, I would glue the eyes on rather than sewing buttons. I think the buttons protrude a little too much and alter the overall look. Otherwise, I'm quite happy with the way they turned out.
Material Notes
- Xhilaration ballet flats purchased from my local Target
- Nose and ears = vinyl cut from an old jacket
- Eyes = Buttons begrudgingly purchased from JoAnn Fabrics
- Whiskers = Retail tag fasteners (a brilliant idea stolen from this tutorial: https://www.youtube.com/watch?v=X2blTPTon_s)
- Guerrilla glue was used to hold together what hasn't been sewn
Difficulty
Novice
Categories