Monet's Garden Maxi Skirt
Added Oct 24, 2011
by violetsky
London, United K...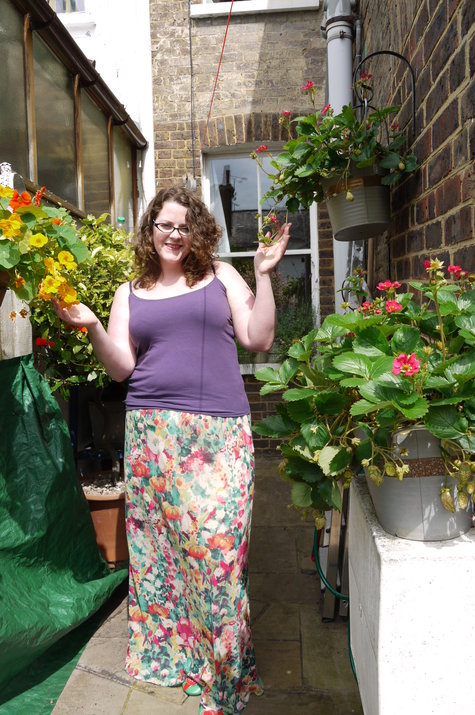 ShareThis
Description
Alas summer has left the building and now I am playing catch up with all my projects. May I introduce you to you my maxi skirt. Self drafted with a few cough cough blunders. Blunder one, it's a bit too long (it's tried to kill me on stairs a few times and not really recommended to wear on escalators), but since the fabric is so hard to control when hemming this blunder will remain (damn you jersey knit). Blunder 2, caused me to go round a department store asking the sales staff if they had any scissors, because when I made the cotton tea dyed lining I hadn't enough sense to think about my stride length and was fed up walking like Mortica Addams. Once scissors were acquired is was quite amusing watching the horror on the shop assistance's face as I cut slits in the lining, while trying to reassure her that I wasn't attacking a item of clothing from her shop. Though this shorten stride length did vastly amused my shortened sister, and she finally felt that she had revenge after many years of running to keep up with me. I have since shorten the lining to about mid thigh, so now I can walk normally and still hide my knickers.
Personally I think I really need to rethink (ok completely scrap and start again) this pattern. But I do love this skirt, the fabric is amazing and makes my colour loving heart sing.
Oh and I couldn't resist flashing you the cutest shoes in the world.
Material Notes
Some sort of jersey knit fabric. An old white cotton sheet, dyed with tea. Reclaimed invisible zipper.
Difficulty
Novice
Categories