(ModCloth Handmade Contest) Turban Headbands For My Sisters!
Added Dec 6, 2010
by caramia-made
British Columbia...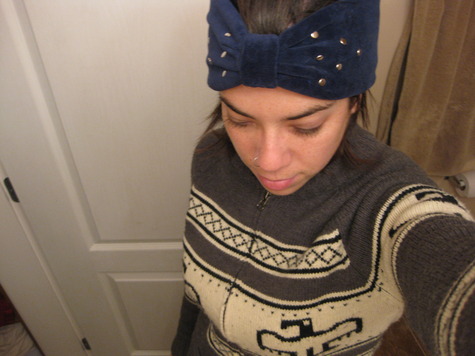 ShareThis
Description
I'd been thinking for awhile now about making a turban-style headband… lo and behold Burdastyle read my mind and posted an article last week on turbans! It was so quick and easy that I ended up making two of them in one evening! I plan to give them to two of my sisters-in-law for Christmas this year as I am poor and can't afford to buy lots of gifts for my (rather large) family. Plus handmade for the holidays is so much nicer isn't it?
I started following the video for New York Design Studio (especially since it was about a studded headband which I had ESPECIALLY been thinking would be perfect for Pettiya) but I guess the fabric I used wasn't stretchy enough. It was SO TIGHT! So I quickly changed my approach and even managed to post a How To on my blog in case anyone is interested ;)
Happy Holidays everyone!
Update *
I received a message from Burdastyle with a new rule, asking me to add links to a ModCloth items that my project complements…
Well, since this is rather in hindsight I browsed the ModCloth site (ugh, so amazing!) and picked out stuff that each of my sisters would actually wear!
The first headband (without the studs) is for my more conservative sister who would look simply fantastic in this sweater vest and a pair of skinnies…
Ooooh, or this
The second headband (with the studs) is for my fearless fashionista sister who I can totally imagine pairing her turban-style headband with this dress
or this adorable jacket
and check out this studded bag LOVE!
Basically anything from ModCloth would look fab with these turban-style headbands! Versatility at its finest!
Material Notes
Stretchy velour upcycled from a zip-up,
Round studs
Difficulty
Novice
Categories
0 Comments