Midsummer Nights Dream Tu'Tu'orial
Added Aug 11, 2010
by grosgrain
Harrisburg, Penn...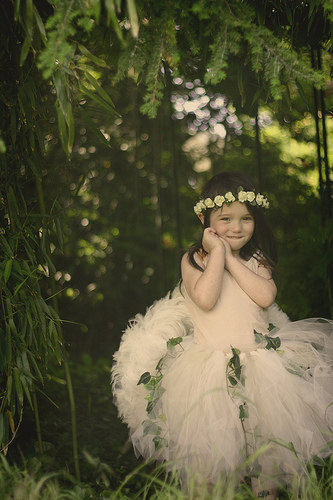 ShareThis
Description
For more sewing goodness visit Grosgrain
A few months ago a friend of mine asked me if I could sew a dress for her daughter who was going to be a flower girl in an upcoming wedding with a 'Midsummer Night's Dream' theme.
I said sure, if you let me photograph the finished product for the blog. Deal.
So we perused etsy for some good ideas. She fell for the knotted tutus. Fortunately, I knew exactly how to make these. Not only are super easy but they require NO SEWING! Anyone can make one.
So she came over to my house one night and helped me cut the material while I knotted it around a piece of elastic. This is the finished product.
After reading all your wonderful survey comments I was surprised to discover that many many of you would like to see more tutorials. So, I'm taking this opportunity to write one.
First step is to purchase your tulle. You may not be able to tell from the photos but we bought ours in varying complimentary colors. This gives your tutu some depth and character. We choose ivory, tan and gold. I wanted to throw in a puce color but the bride's theme is more of a royal blue.
We bought 6 yards of tulle! Varying colors. This was enough for one poofy skirt. The amount of poof you want will of course depend on how much material you purchase. You can get anywhere from 4 to 8 yards depending on your child's measurements. To give you some idea of what may be right for you, Lily is nearly five years old and we used six yards.
We also added small vines with wire running through the stems bought at Micheal's. You can add any other embellishments of your choosing. Ribbons would also do the trick.
Don't forget the elastic. One yard will do.
Lily is also wearing feather wings. For those I just unraveled some wire hangers and shaped them into two teardrop shapes and fastened them together with string.
We then bought a feather boa and tied it with string to the wire frame.
Then I wrapped the gold ribbon in a criss cross around the two tear drop wing shapes and knotted the ends together.
I then cut two more stripes of gold ribbon and tied them to the criss crossed ribbon.
Finally I tied the one of the gold strips around Lily's left arm and the other gold strip around her right arm.
I used a plain nude colored cami from my closet for her top. I tied the straps in knots so it would fit her. Most camis are pretty tight and fitted so if you have one in your closet this trick may work for you too.
Difficulty
Novice
Categories