Mickey Mouse costume
Added Jun 4, 2013
by haela
Sydney, Australia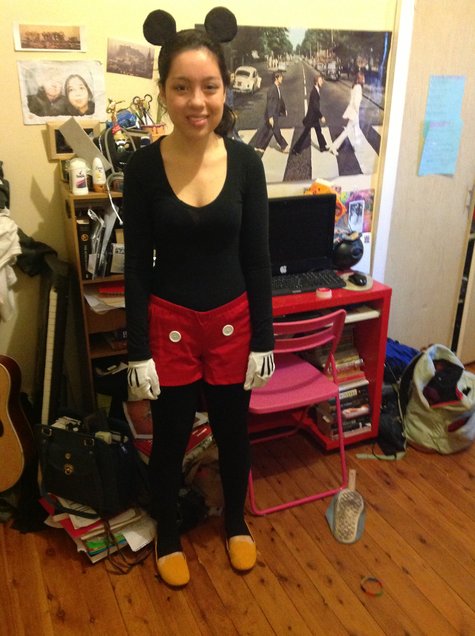 ShareThis
Description
This was made for my sister for her athletics carnival at school. The theme for her school house was 'red' so I suggested Mickey Mouse, which is incidentally one of her childhood nicknames.
I made the shorts and ears, so it was an extremely simple project but super fun to make – especially the shorts, cos I was a wee bit tipsy at the time (terrible, I know).
The ears
I drafted the ear shapes from a tin of salmon since I didn't have a compass on hand! Fortunately, the size suited my sister's taste, though, if it was up to me I would've made the ears A LOT larger.
1. I cut two pieces per ear and sewed them wrong sides together so that they were sturdy and stood up nicely. There was a flap on the bottom portion of each circle so that I could handstitch them together around the headband. They were then glued for extra stability.
2. I wrapped a long strip of black felt around the headband and around the ears and glued it in place.
The shorts
I attempted to draft the shorts from an existing pair of boxer shorts but they failed MISERABLY. As I started these shorts the night before the event I was panicking a bit! Fortunately, I was able to use a Collette Pattern which worked perfectly! Funnily enough the shorts ended up being quite large, especially on the sides and leg holes. I suspect this was because I omitted the leg hole elastic. To finish the shorts off I sewed to lovely round white buttons of the front :)
The rest
You can probably guess that my sister simply wore a long sleeve black shirt and black leggings with a pair of mustard flats.
Oh, and a nice little circle on her nose with black eyeliner! (which was put on after this picture was taken, alas!)
Material Notes
felt, twill, buttons, thread, elastic, headband, glue,
Difficulty
Novice
Categories
1 Reply