Melli Mello Dress
Added Feb 22, 2014
by saxsilverain
Espoo, Finland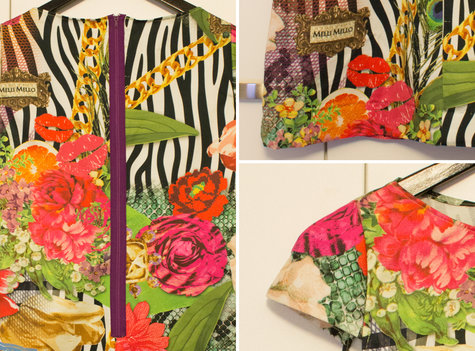 ShareThis
Description
Melli Mello is a Dutch brand, though the name derived from French word "Meli melo" which means mish mash. and that is exactly how their designs look like: a mish mash of colours, objects, and things you don't normally imagine being together but somehow look gorgeous. and this whole mish mash clashings are just up my alley!
i've been eyeing the Melli Mello fabrics for about half a year, but since they normally cost about 25€/m, i've always had to hold myself back from getting it.
until finally last Sunday i saw a small remnant of one Melli Mello fabric that's called "Victoria", sold for a bargain price. this was my chance!
without wasting any more time, i bought it, and worked on it right away. i had a vision of what i wanted to make from it, but didn't really have too much option since it really was only around 1,2m long (which isn't that big if you want to have room to play around with it). i don't want to "waste" it to just being another skirt, it's not enough to be a jacket, and making pants out of it would break the big & bold pattern of the fabric so much, i would definitely cry. so the answer is clear: i'm making it as a dress.
just a simple dress, in contrast of the complicated pattern. so i chose to do it with the same pattern i used for this dress (the second project), pattern no. 107 from Burda Style magazine, September 2012 issue. i had to make the sleeves a lot shorter and i omitted the pockets because i wanted the whole pattern of the fabric to be shown. after modifying the pattern & cutting the fabric, i just realized that in the same magazine, there's actually pattern no. 108 that is exactly the same as no. 107 but with short sleeves. oh well!
the fabric is 100% cotton satin, which is very easy to sew. it took me about 5-6 hours to do the whole thing from tracing the pattern to the fabric, cutting it, and sewing it down to the last stitch. that was quite quick for lill slow me! i used a zipper from my late grandmum's old stash… i don't even know what the type of the zipper is called, but it's the kind where you can't see the teeth from any of the sides (but not invisible zipper though). i had no idea how to sew it properly, but decided to make it simple and sew it like i would a metallic zipper: exposed. for the neckline, i also omitted the band and just sew it normally.
Material Notes
about 1,3 m of cotton satin fabric,
50 cm zipper.
Difficulty
Novice
Categories