Mario and Luigi Patchwork Pillow Cases
Added Feb 15, 2012
(Near) Leeds, Un...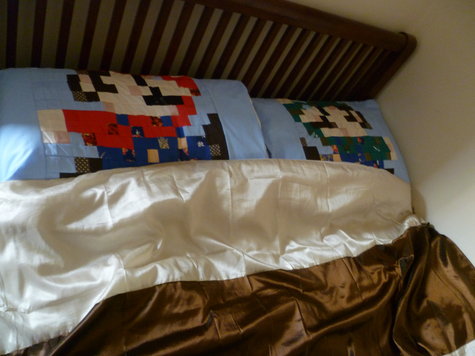 ShareThis
Description
http://www.thebarethreads.com/2013/09/07/super-mario-and-luigi-pillow-cases/
Clearly patchwork is not my forte as I am far too impatient and don't own a decent ruler. But my boyfriend likes Mario and all that geekery, and yet weirdly wants a patchwork quilt of said geekery. For Valentines I decided to help things along with Mario and Luigi pillow cases. They took three weeks in total!
I used a picture thingy of Mario boyfriend made with beads as my initial guide, exchanging one bead for one square of fabric. Then turned the image around and the red parts green to make a guide for Luigi (also made his moustache brown not black).
I made my squares 3×3cm (although when I cut them out I added 1cm of seam allowance), which made a 45×48cm design. For Mario I needed 44 red squares, 25 brown, 7 black, 35 blue, 2 yellow, 38 pink (skin coloured), and 73 for the background which I did in light blue. Luigi was the same except the red became green and four of the black became brown (for the moustache).
Then I sewed the rows together, I added two small strips to the top and bottom and wider ones to the sides to make the full pillowcase size. Then I took my two piece of light blue fabric, which I had prepared earlier, one being 20cm longer than the other which became that inside hood bit which pillow cases have. I folded that section over , then layered the shorter blue fabric and the Mario design over the top. I did French seams, you sew it wrong sides first then turn it inside out and sew it right sides together which hides all the seam mess inside the French seam.
I can now tell you the products were well received, but boyfriend did turn it over to the plain/smoother side of the pillow case to sleep So nearly perfect.
Material Notes
Mostly cotton fat quarters, some other remnants.
Difficulty
Intermediate
Categories