Marina's High-waist Floral Skirt
Added Aug 22, 2010
By burdastyle
New York, New Yo...

Step 1 Introduction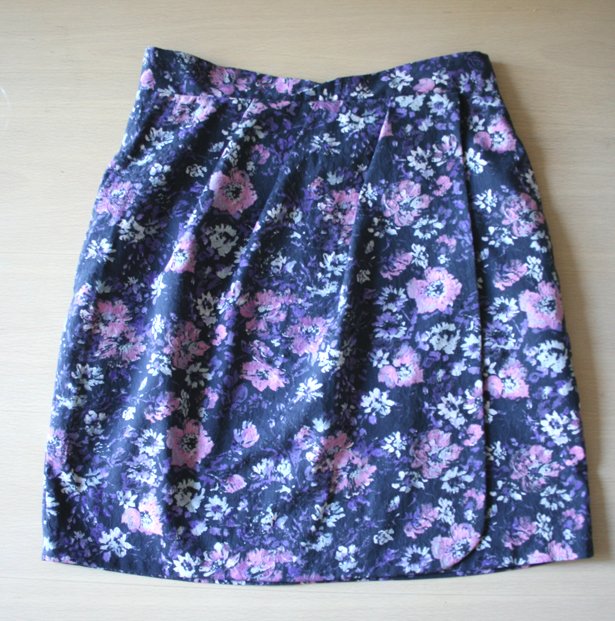 Description: I tend to make a lot of skirts, and I find that each one is fun and special to me because of the funky fabrics I use. Most of them are what I like to call "found fabrics" because
I didn't buy them at the fabric store, but rather found them in the attic, in my mother's or other
family members' supply, or repurposed them from old garments. This skirt was made using the
wrong side of a fabric my grandmother gave me, straight from her own secret stash from who
knows when ;) She used to be a seamstress… I definitely think I inherited my love for sewing
from her and my mother!
The pockets are lined with a satiny fabric cut from my friend's old skirt. She was cleaning
out her closet a few months ago, and decided to generously give me an array of out-grown
clothes featuring interesting textiles- and I am definitely grateful (these pockets are so smooth
and luxurious! But of course, in-seam pockets are a luxury I always find a way to include…)
The Sidonie pattern is a perfect match for me, as right now I'm trying to move away
from 'rectangle/gathered' skirts and into more fitted silhouettes. On this skirt there is just
the right amount of gathering at the front. Many members on this site have had experience
altering the Sidonie skirt- there's no denying it's a must-have staple pattern! I hope you
enjoy this draped variation of the Sidonie skirt, and I hope to see your own version soon!
Intro: This tutorial will show you how to alter the versatile Sidonie pattern to create a two panel
draped mini skirt with an overlapped waistband and in-seam pockets! (optional, but I can't love
them enough!)
This project is based on
Make it