Marilyn's School Dress
Added Sep 9, 2012
by pambox
Sydney, Australia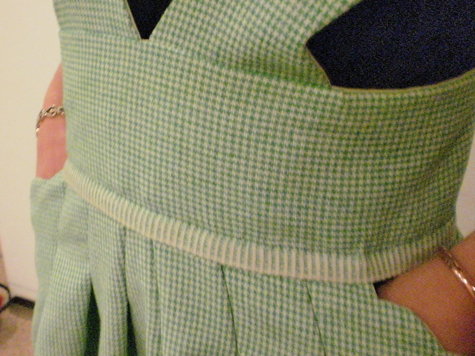 ShareThis
Description
I'll start with the name first. Sometimes coming up with names for projects is easy, sometimes I have no clue. For this one, I'd had no real clue, other than somehow referencing the fact it's based on early 1940s teen girl pinafores. Then last night while wearing it, as we were walking by the harbour to the Sydney Opera House to go to a performance, the wind started picking up under the skirt, and one of my friends commented that it was doing a Marilyn. So given the schoolgirlish style of the pattern, and the skirt's propensity for going flying, I felt this was an appropriate name. The photos were all taken inside, about 20 metres down the hall from an open door, and the wind still managed to have its way with my skirt.
This dress was semi-self drafted, in that I saw a few patterns like this online last year when looking for a 40s/50s party gown dress. Unfortunately I didn't buy or even write down what any of the patterns were, so I had to kind of make it from memory. To make it easier on myself, I used the skirt from Simplicity 2444 as a basis, and just shortened it, added scalloping, and pockets. For the waistband, I used the selvage from the fabric. The scalloping of the skirt and straps were drafted from a vintage 1942 Anne Adams pattern, number 4768 (for the pockets I used a large thread spool to get the small scallops). So while I did create new pattern pieces for this dress, they were all based on things I already had.
The fabric is a lolly green fine weave houndstooth, that I managed to find for $5 a metre. While it is wool, it isn't overly heavy so the pleats still sit flat and it isn't hot to wear. It is lined with plain cream cotton.
Material Notes
2 metres wool
2 metres cotton
1 zipper
Difficulty
Intermediate
Categories