Marie-Thérèse Gown
Added May 13, 2010
by grosgrain
Harrisburg, Penn...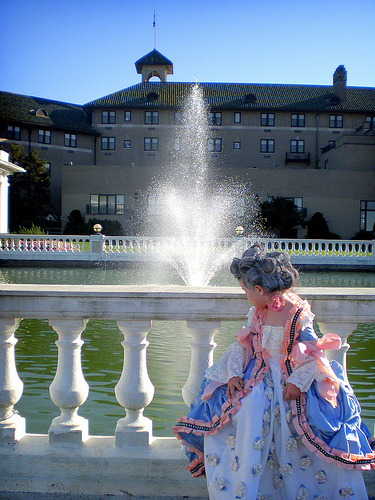 ShareThis
Description
I had given this away on my blog in '08. Yes, it was totally heartbreaking but it put my blog on the map so it was totally worth it! The original post had over 1000 comments. I was so overwhelmed!
Oh, where to begin? Well, let me start off by saying that this was by far the most ambitious dress I've ever sewn. After this, I have fewer qualms about sewing a wedding gown. With all the man hours I put into the gown itself, not withstanding the fabric, I would say this gown is worth $500….if my time was worth $15 an hour. You can do the math. Like I said…ambitious. At least I knew what I was getting into from the beginning.
I fell in love with the idea of doing a french 1700s piece after watching Sofia Coppola's Marie Antoinette. Each candy pink and blue scene made my heart ache and it was all I could think of since. It feels good to finally get all that inspiration out in one big frilly burp.
I spared no expense with this costume. Homemade florets cover the under skirt and creep up along the bodice. I found the blue and black trim at my favorite niche fabric store. It was exactly what I was looking for. I paired it with the pink satin ribbon. A whole SEVEN YARDS worth!!!!
What took a chunk of my time was the smocking in the over skirt. You can see a more detailed image near the bottom. I stitched each and every one of the knots myself.
The satin ribbon was also used around the sleeves and tied off with a long flowing bow. As you can see I added a long lace material to the ends of the 3/4 length sleeves and around the neckline.
Sadly, the neatest part of this gown can't even be seen. That is the historical underpinnings. Yes, I made one of those corsets that bulge out at the sides. I used 'boning' but if I had to do it again I'd use good old fashioned metal. The boning didn't exactly cut it. The dress is a bit heavy but I had to keep fluffing the sides which shouldn't have been necessary.
Please don't be confused by the Marie Therese reference. I could have gone with Marie Antoinette but that is so cliche right? Marie Therese was her only daughter. When I watched the movie the little girl reminded me of Lily so I thought she would be more appropriate.
And YES! That is Lily's real hair! (plus a few Photoshopped curls). I thought it would be harder to poof but you would be surprised what magical results simple hairspray can accomplish. We used Halloween white spray for the color. Lily was pretty good about the whole thing. Taking it out was another story.
Material Notes
Everything and the kitchen sink
Difficulty
Advanced
Categories
May 16, 2010, 12.45 PMby hnolde

May 14, 2010, 09.26 AMby loyl8

May 14, 2010, 09.24 AMby msgems

May 13, 2010, 09.51 PMby ana555

May 13, 2010, 03.35 PMby rifka