Maarrrgggccchh "Halloween" Costume
Added Feb 24, 2011
by ielle palmer
Elmira, New York...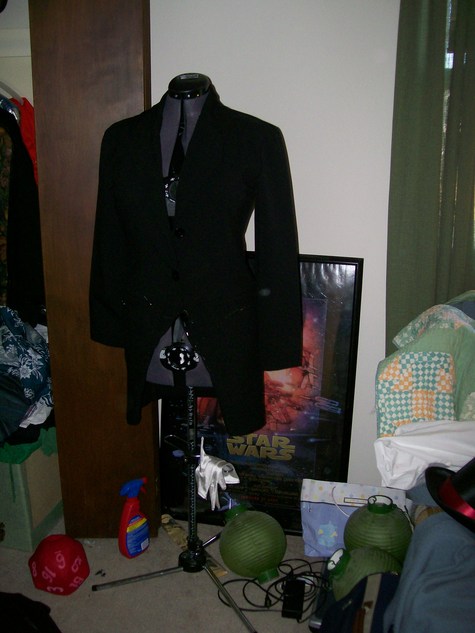 ShareThis
Description
So this past halloween a few of my friends and I went down to DC to the Jon Stewert Rally. Now while that was exciting, I was super bummed that we missed out on my annual Halloween party. You see, i ADORE Halloween. I have so many great memories of my Grandfather at Halloween (he too, loved the holiday) and Throwing my party is one way to have a blast with my friends, never really grow up (as who REALLY wants to be an adult all the time, right?) and continue the fun memories that Grandpa started. But this year that was put aside :(
Flash forward to a few days before the rally when i was kind of moping about (Because we weren't going to have a party) and my boyfriend goes, throw it another weekend. At first i was like, WHAT? No, that's silly. But then i remembered that our dear friends, Steve and Tina were in India and ALSO missing Halloween (Tina is another big Halloween girl, and often helps me deck out the place) so i went, "AH HA! We'll have it when they get back in February and we're call it Feb-BOO-ary, for added cheesiness" Sadly Feb-BOO-ary got pushed back to March (and got a new name thanks to Tina lol) and so we all found ourselves working hard on our costumes during a season that is NOT conducive to costume making and Halloween Party Planning (it is HARD to find orange napkins in March. Luckily my mother hordes things like themed napkins, thinking we'll need them next year. It's as if she believes that one of these years the retailers are going to forget to put out themed napkins for the season lol).
Anyway, this is my costume this year. It's based off the DC character, Zatanna. I decided to go with the more conservative "SMALLVILLE" tv show approach on her costume as i do NOT have the thighs to pull of her normal high thigh swimsuit bottom look lol. I'm nearly done with this (just attaching the trim to the blazer and after the next paycheck, I plan to finish up the corset). Now i just need to no eat bread for the next few weeks so that i don't scare people whilst wearing "short shorts" lol.
I will post pics of the actual party once it happens (which i think is March 12, or 11th…now i need to double check so i have the house ready lol).
Material Notes
Everything EXCEPT the corset is re-purposed. I created the corset pattern myself (traced an old corset of mine, then took out a bra and cut back the area for the boobs so it would sit right under my breast line. Still need to put in the grommets and sew the bottom of the corset (ran out of thread and money during the winter break lol)
I altered the jacket the most. It was a long hulking straight jacket. I cut the ring master front and tails out of what was there, then lined it with a re-purposed table runner (two table runners, actually). The hat i bought on amazon then put a matching ribbon on it (oddly enough i re-purposed that ribbon too! it was around my christmas gift from my cousin this year. I couldn't believe she used such lovely ribbon just for a gift, score one for me! lol).
The gloves are from a previous project (Dr. Girlfriend)
I've yet to finish the bow tie. I'm seriously considering just ordering one and saving myself the headache lol.
Difficulty
Intermediate
Categories