Long wrap jumpsuit - petite to tall
Added Apr 21, 2015
by MissElly
Midtjylland, Den...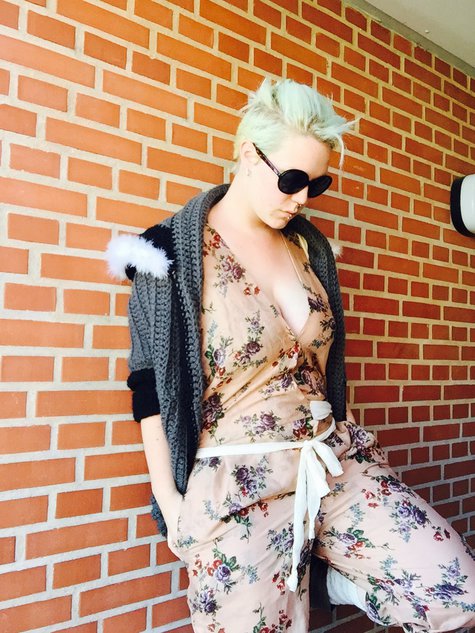 ShareThis
Description
I noticed AFTER having purchased the pattern and printed/assembled/cut out all the pieces, that the pattern was actually drafted in petite sizes whelp. No matter. A few measurements and a couple of artfully placed slash-n'-spreads later, and it was transformed into a tall (thankfully, the pant length was more or less fine, while the top pieces were the ones that needed significant lengthening – 5-10cm)
Now, the truth is that before making this particular version of this jumpsuit, I had made the shorts version. That was a bit of a trial and error situation, but it turned out acceptable, all things considered (read, I hate working with bias tape and should never alter pattern pieces when blinded by severe exhaustion).
The fabric I used was a very VERY lightweight polycotton SOMETHING or another. There was no label on the bolt and I bought the very last 5 meters the store had in stock, but the closest I can compare this fabric to is chiffon. It's insanely light and floaty, and quite sheer. ergo the extra meterage.
Instead of using bias tape to finish the neck and front edges, I cut 4 front top pieces and two back top, and used the second set of pieces as lining, sewing right sides together along the neck and front edges – PRESTO. No bias tape XD. I basted the remaining edges together (wrong sides facing) and treated the lining and outer pieces as one.
The pant section was actually a marriage of both the long pant version, and the shorts version (the shorts pieces used as lining). I hemmed the bottom edges of the shorts pieces. The corresponding shorts and pant pieces were then basted together (again, wrong sides facing) and then treated as one piece.
The last details that I changed were the tie (I drew inspiration from the shorts version, i.e. a sewn on tie rather than ribbon). I made a wider tie out of a fine Egyptian muslin, sewed the sleeves out of the same muslin fabric, and added a button on each pant leg on the outer seam line, about knee height as well as a button hole strap attached to the inside, same height/spot as the button (folded hems never seem to stay folded for me)
Difficulty
Intermediate
Categories
Apr 22, 2015, 09.07 PMby Mokara

2 Replies

Apr 22, 2015, 03.15 PMby Bbtiny

Apr 21, 2015, 10.48 PMby Tzai