Lolita Inspired fun in the sun!
Added Dec 4, 2010
Adelaide, Australia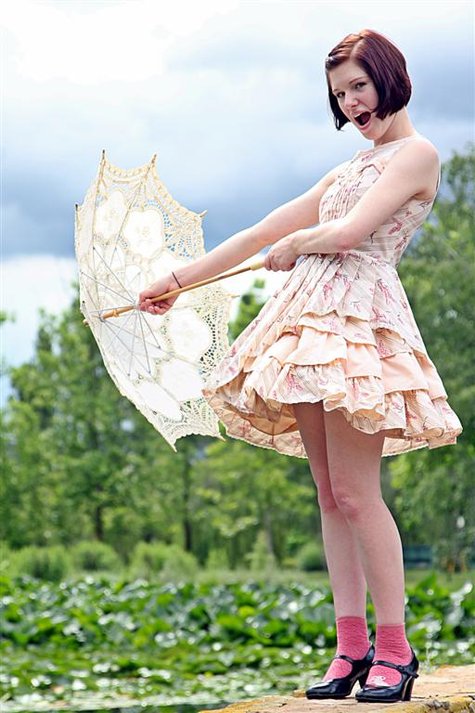 ShareThis
Description
This was a dress i started a significantly long time ago…so about 5 months! im not the kind of person who leaves things a while to get done. i like just getting it done asap and wearing it! But sadly because of school and all its busy-ness, it had to sit in the background for a while. As holidays are now upon us, i had the time to go back and finish it off completely!
So how it all started….as of the last while…ive fallen very much in love with the lolia style (actually…i think ive always loved it, but only recently decided to embark into its style more drasticly…oh and mainly classis lolita….sweet is a bit too much in my opinion!). As i was perusing the greatness that is ebay, i found an eternity of dresses i wanted to buy! But seeing as yes i was studying full time….the liklihood of me purchasing anything and being able to justify it was very slim…. I started saving pictures of my favorites and figured i could just make one myself at some point
Mother kept harping on at me to go through this huge pile of sheets one of my grandmothers had given to us when she moved into a smaller place, and as i did found some fabrics i liked! 3 or 4 of the same kind of bed sheet (the main part of my dress) which were new, and then a nice plain peachy kinda coloured one which matched quite well….and then became the creating!!! I drafted a bodice pattern using the coffee date dress bodice as my basis (changed it significantly :p) i turned the front into two different piece and added pin tucks to the lower panel. i also played around with that fabric origami, but i didnt end up using it in the end. instead i pleated some of the contrast fabric and attachted it to highlight the panel line.
After making the bodice…it sat there for a little bit. Until i got motivated and figured out exactly what i wanted to do with the skirt. So many different possibilities!! Eventually i decided to use a similar skirt to one of the dresses i liked, which had two layers. I wanted to do something a bit more different, and not so traditionally lolita, so i pleated the whole skirt (ironing all the fabric took sooooo long!!!) and then drapped it, and cut it how i wanted it to sit around the under skirt. Then i attatched it, did that zig zag stich on the under side of the pleats to help hold it in place, and added a thin strip of lace around the buttom.
….and then it sat around for some more!
Until i got motivated enough to put the zip in and do the binding. And when that was done i made a little simple gathered skirt out of the main fabric to wear as the under skirt…just because i was too impatient and wanted to wear it. But after i wore it once i realised it needed to be lined, because the two fabrics sitting on top of each other kept getting caught and it didnt sit pretty :( soooo i unpicked the binding id already done, added the lining in (this was a pain…garr) and then it sat there some more.
Until 3 days ago when i was like ahhhhh! i want to put this into my portfolio!! FINISH TIME! So i finally made the skirt! I bought a ruffler foot half way through the term, because i didnt want to gather all this by hand! i bought it for 30 dollars from ebay, which is about 60 dollars cheaper than any store in Canberra! its so much fun, a little confusing to use at first. but so worth it!!!
There are four layers to the underskirt, two of the main, then a single peach one, then the main again. There is sooo much fabirc in the skirt. its very fun and full, which is why i made my friend take a photo of my spining.
anywho! immm super happy with the end result :) it took many hours and alot of motivation to get it finished! but now that its done its all i want to wear! im really glad that there are 3 pieces essentially to this outfit, because it means i can use them with other things :)
Also, kudos to my great friend, Mr Spring for his fantastic photos! they really make it!!!
Let me know what you think!! (and congrats if u actually read all that….hahah sorry!!)
-Ruffles
Material Notes
Linen bed sheets... × 3ish…
peachy bed sheet x 1
zipper and lining
total cost = $10!!! boo yeh!
Difficulty
Advanced
Categories
1 Reply

Oct 1, 2011, 06.47 AMby tine94

Apr 7, 2011, 04.57 PMby tirrs

1 Reply

1 Reply

Dec 12, 2010, 06.50 PMby dorip

Dec 11, 2010, 03.31 AMby mumsew

1 Reply

1 Reply