Linda
Added Jan 20, 2007
By burdastyle
New York, New Yo...

Step 6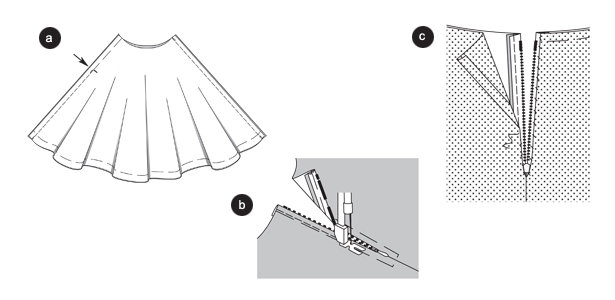 SKIRT
Side seams/Slit on left
Place skirt pieces onto each other, right sides facing. Pin side seams. Stitch right side seam. Stitch left side seams from the slit marking downward. Secure seam ends. Leave slits pinned. De-baste seam allowances, finish. Tear basting stitches at slit. (a)
Zip
Pin zip underneath the slit edges so that the teeth are covered. Stitch zip using zipper foot. (b)
LINING
Stitch front and back middle seam. Trim seam allowances; de-baste them held together and iron to side. Stitch side seams as with the skirt pieces.
Lining the skirt
Pull lining onto the skirt, wrong sides facing. Fold apart and pin upper edges, side seams lying atop each other. Sew lining to skirt at the zipper bands. ©
0 Comments on Step 6
Patterns for this Project
Produced by BurdaStyle