Like twins
Added Dec 6, 2018
by Stacyco
Moscow, Russian ...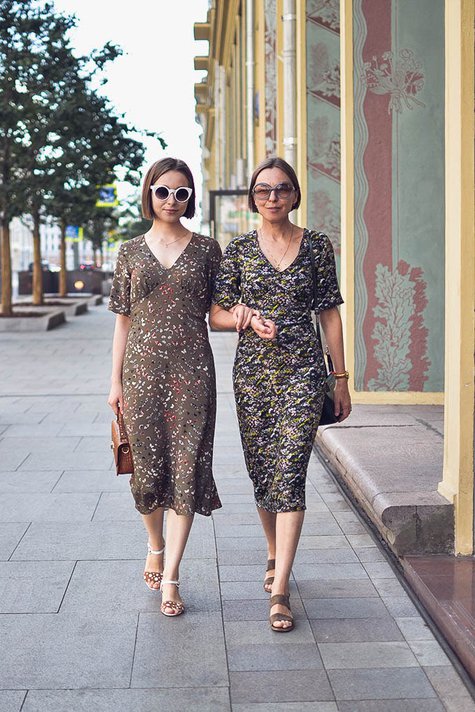 ShareThis
Description
We are often told that my mum and I are alike. This similarity is evident in the hairstyle, facial features and our tastes relative to the style of clothing. Therefore often, when I sew something for my mum, then I repeat the same model for myself, changing only the material.
So it happened with the tea dress, which I originally planned to sew only for my mum. But when I began to choose the fabric for this dress, I found several suitable materials. They were two completely different and dissimilar fabrics, but each of them reflected our personal style. The first had an unusual abstract drawing. Multicolored splashes against a dark background remotely resembled a floral motif. The second one depicted butterflies of a variety of colors on a warm marsh-brownish background. A little later, when I saw the fabric in the store and put it in front of me in the mirror, I definitely decided to buy it, and the choice of the model was not even questionable. It will be two dresses from one pattern.
The choice of the same model, neither me nor my mum was not embarrassed. The same dress can look different. It all depends on the style and nature of its owner, as well as the choice of accessories, which will be supplemented by the look. In our case, the fabrics were different, which means that the dresses were not alike.
In this season, along with logomania, eighties, ugly sneakers and wide straps, so-called "tea dresses" are popular, as if taken from a grandmother's trunk.
I suggest you see my selection of tea dresses for inspiration. Such outfits can be seen in the lenses of street photographers and on fashion shows.
The model of tea dress I will sew in this master class. It will be a tea dress "Chelsea" for the pattern of Vikisews. The model of the dress won me from the very beginning, as soon as I saw it. Half-fitted silhouette, long midi, loose flared sleeves, assembly instead of darts – feminine and romantic look for all occasions!
For the project, I chose a soft fabric made from viscose. I deliberately did not take the traditional floral motif for tea dresses, but decided to make my choice on weightless butterflies. These beautiful, graceful and defenseless beings for me are associated with summer as well as flowers.
The whole process of creating this dress you can see in this video and my blog.
The tea dress refers to light day dresses, so for a walk on a hot summer day we simultaneously chose these two dresses. This is a coincidence, we decided to capture in the photos.
Two identical dresses can look absolutely different. So do not be afraid to sew a few dresses on one pattern! Fabric, texture, accessories will add along the originality of outfit, and your style will add along individuality and uniqueness.
And you bought or sewed identical dresses, if you like one model? Are there many identical dresses in your wardrobe?
More photos of this project and used technique of sewing you can see in my blog www.stacyco.com. Link on post in Credits. Thank you all for your attention and see you soon!
Instagram @stacycoblog
Blog www.stacyco.com
Youtube StacycoTV
Material Notes
viscose
Difficulty
Intermediate
Categories
Credits
Tea dress

Like twins

Video tutorial
1 Reply

1 Reply