Lemonade Brocade
Added Jun 10, 2011
by lauramae
Novato, Californ...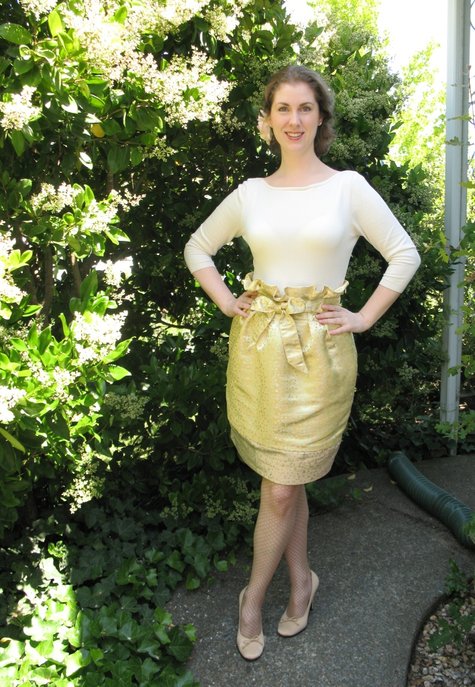 ShareThis
Description
Simplicity 2413, Project Runway Skirt Pattern: Misses skirt in two lengths. View A is a "paper bag" skirt, and View B is a full skirt. I chose View A with a contrasting print. (I lengthened the pattern considerably.)
The instructions are very easy to follow. There are not as many diagrams as I would expect from a Simplicity pattern, but everything is spelled out quite clearly – you may have to read through the directions instead of scanning the images (how annoying!).
I am surprised that I like this silhouette as much as I do, but this is the third "paper bag" skirt I have made and whenever I wear them I get a ton of compliments. I would wear them more often, except they require a form fitting top and I do not have that many in my wardrobe, so these skirts spend most of their time in the closet.
These fabrics have been in my stash for years – back when I was actually purchasing polyester fabrics. Because of the fiber content, this skirt construction was not as much fun as it could have been. I hate that the seams will not lay flat – I have actually melted polyester fabric in the past and now have an intense fear that I will do it again.
For this version, I decided to forgo the pockets. The polyester brocade has quite a bit of poof, and I did not think the added bulk and seams would work. Also, the fabric shreds like nothing else and is impossible to iron flat without melting it. So my trusty rayon seam binding came in handy.
The skirt has quite a bit of peg, and since I lengthened it, it was not quite as easy to walk up stairs or to walk with a full stride. If I was to sew this up again, I would straighten out the peg a bit as I did with my polka dot version.
I added a crocheted thread loop to each side to hold the belt in place. Because I have a ton of embroidery floss leftover from my counted-cross stitch days, there are a million colors to choose from, and the six strands used together give a sturdy but not thick belt loop, I often go this route. I create a chain of sc just a smidge wider than my belt and then use a needle to pull through each end from right side to wrong side and secure with a few stitches and a knot.
My fabric belt was edge-stitched according to the instructions. Normally, I would not use this technique, but because the polyester was so poofy, the edge-stitching really helps the belt look RTW (and I probably would have snagged the brocade if I have to turn the thing right side out).
Although polyester is not my favorite fabric (to work with or to wear) I love the spring color palate of this fabric, and I have received a ton of compliments on my outfit. Because the Bay Area has been having such lousy weather, this was my first chance to wear this skirt – here's hoping the rain stays away for a while!
Material Notes
*Poly Brocade *Hug Snug seam binding *Invisible zipper
Difficulty
Novice
Categories