Leafy t-shirt
Added Jul 29, 2011
by p4r4n0i4
Baltimore, Maryl...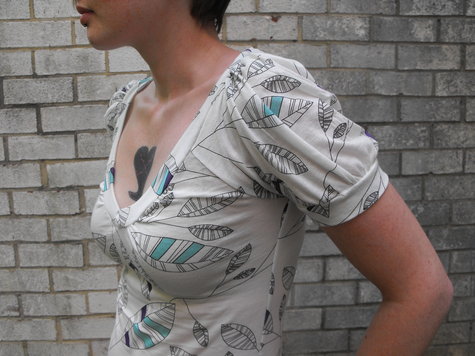 ShareThis
Description
On days when I get bored or frustrated with knitting, I turn to my other hobbies. I think I made this at some point in the past couple of weeks when I needed a break from sewing a jacket I'm also working on.
I bought one yard of this fabric probably a couple of years ago when I was just starting to learn how to sew. It's very lightweight and the print is cute. Of course, because of those two reasons (and because I couldn't come up with what to make) it's been sitting in a pile waiting for its moment to shine. So on a Tuesday (it was probably not at all a Tuesday, but moving on) I decided that the wait is over and took some scissors to it.
I'll have to say that the majority of the time I do not sew with a pattern. My degree of success varies, but in time I've gotten better with practice at basic techniques and my experiments progressed in the most pleasing directions. For example: here are some words of advice I can offer to a novice or a self-learner that wants to learn to sew by cutting a piece of fabric however he/she wants, stitching it and wearing right away (basically what's happening in these photos).
Cut with extra seam allowances. You can always take in a garment, but once it's too small, it goes into your scrap pile. Pin together everything before you sew. Originally the sleeves were going to be a couple inches longer. However, once I matched up the front and back sleeve seams on my cut pieces I realized I forgot to add the length in the back. Oops. Now the sleeve band meets the side seam at the armpit, which is fine, but I felt a bit silly for making that mistake. The iron is your friend. I press everything. I would have gone mad sewing the arm/neck/hem bands if they didn't hold shape from a rather aggressive pressing. I don't have a walking foot for my sewing machine (and this is a light fabric
AND
a knit) so I made it as easy for myself as possible.
An easy way to make gathers as seen on the sleeve/neckline is to stitch along the seam line in a very long stitch. I did this in a contrasting thread. Then you pull on one of the ends so that the fabric gathers. Pin it to the ungathered piece (or I guess you could sew two gathered pieces together if you want, it would be more difficult to keep it even) and sew together.
By the way I must also mention that having a serger is the best thing since sliced bread. That's basically what I used for 90% of this construction, the other 10% being 5 regular sewing machine and 5 hand stitching.
Difficulty
Novice
Categories