Laura
Added Apr 4, 2007
By burdastyle
New York, New Yo...

Step 6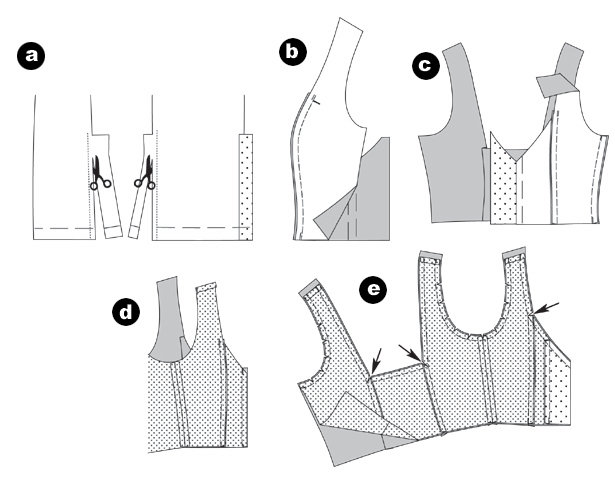 DRESS
Trimming the back right side seam (skirt)
Cut the underlap at the back right side skirt piece. Cut the facing at the middle skirt on the right side. (a)
Bodice/ Seams
Place side front pieces right sides facing onto the middle front pieces, pin the front princess seams
(seam number 1) and stitch. Pin the back dividing seams in the same way (seam number 2) and stitch. Trim seam allowances and iron toward the front middle and back middle. (b)
Right Side Seam
Place right front piece right sides facing onto the back piece, stitch the right side seam (seam number 3), fold apart and iron the seam allowances. ©
LINING
Stitch and iron the front side seams and side seams of the lining as you did with the fabric. At the lining,
iron the seam allowance of the shoulder edges to the inside.
Doubling the Bodice with Lining
Stitch the lining right sides facing onto the cut facing of the front pieces (seam number 5). Iron the
seam allowances into the lining. (d)
Turn the cut facings to the outside at the SELVAGE LINE. Pin the lining onto the bodice, right sides facing. Pin the neckline's edges and the sleeve line's edges together and stitch. Trim seam allowances, cut in at the rounded edges. Cut into the edges at the front and back neckline (arrows). Turn bodice. Pin lining wrong sides facing onto the
bodice. Pin edges. Pin the open side and lower edges together. Unbaste the side edges (fabric and lining). (e)
0 Comments on Step 6
Patterns for this Project
Produced by BurdaStyle