Larissa
Added Jan 5, 2009
By burdastyle
New York, New Yo...

Step 8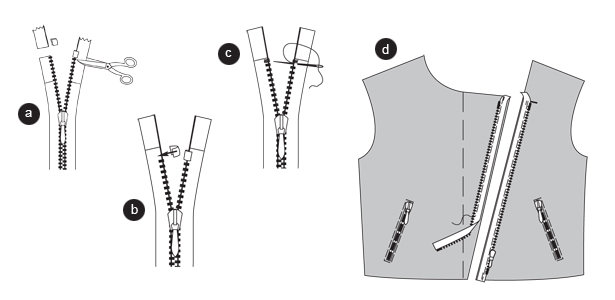 ZIPPER Since zippers are not always available in the requested length, you can shorter a zipper yourself without problems.
SHORTEN ZIPPER
Measure the length of the front edge (piece 1) and transfer to the zipper strip. Part the zipper. Cut the strips below the stopper. If you are using a metal zipper remove the stopper, but keep it. Pull the teeth from the zipper using a pair of pliers (a). Open the stopper carefully and apply it above the teeth on the zipper (b). If you are using a plastic zipper, the stopper can't be reused. Instead, stitch machine buttonhole silk above the teeth on the zipper ©. Cut the overlapping zipper strip.
Pin the zipper onto the front edge of the right front piece, right sides facing. From the cross line, pin the other strip onto the left side front piece (d).
0 Comments on Step 8
Patterns for this Project
Produced by BurdaStyle