Larissa
Added Jan 5, 2009
By burdastyle
New York, New Yo...

Step 11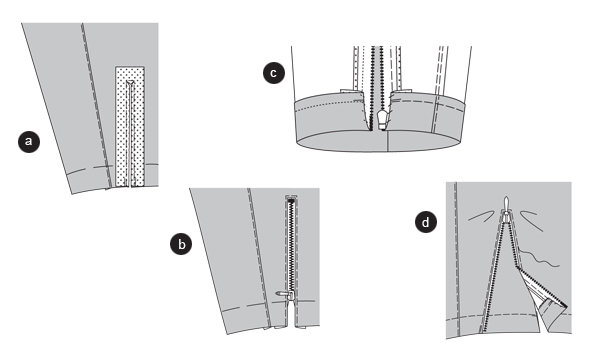 ZIPPER / FACING
Position the facing on the upper sleeve, right sides facing: the center lays on the marked opening for the zipper. Stitch the sleeves along the lines onto the facing. Snip in between the stitch lines ¼" (0.7 cm) before the end. Snip in the corners close to the stitch line (a).
Fold the facing inside. Press the edges. Position the zipper under the opening edges in a way that the teeth are visible. Stitch the zipper using a zipper foot. Fold the sleeves lengthwise, right sides facing. Stitch the sleeve seams (seam 11). Press allowances apart (b).
Turn the SLEEVE HEMLINE to the inside along the fold line. Stitch the edges onto the zipper strips. Stitch the sleeve seam 1 ¼" (3 cm) wide, enclosing the hemline ©.
UNDERLAP
Fold the HEMLINE inside and stitch 1 ¼" (3 cm) wide.
Pin the underlap under the zipper strips. Stitch along the stitch line of the zipper, enclosing the underlap (seam 10) (d).
0 Comments on Step 11
Patterns for this Project
Produced by BurdaStyle