Lace Candy Sundress
Added Jul 31, 2011
San Francisco, C...

Step 1 Preparations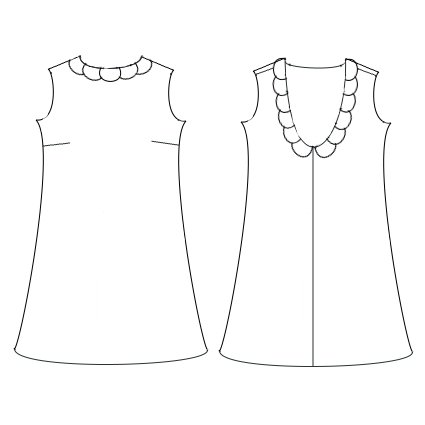 Sizing: I made this pattern to fit my size (bust 83cm; waist 67cm; hips 90cm), which is usually a BurdaStyle size 36. The finished dress laid flat will be about: bust 86cm, waist 90cm, hips 100cm and length from shoulder 90cm.
About enlargement: I am by no means a profess-sional, but only self taught. Anyway, I think enlarging this shift dress should be quite simple by adding extra at the side seams.
Materials: middle weight fabrics, which are a little stiff (I used dupion silk for mine); depending on fabric width about 1.2m should be enough; some light-weight fabric for cutting 30 circles (collar); some fusible interfacing for the armhole facing and the scallop shaped circle collar
Printing: I used A4 sized paper for this pattern, but it should work with smaller ones, too. Set your printer on 'no scaling' or rather '100%'. I have also added a little test square, which should be 10 × 10 cm. Tape pattern and cut it.
Cutting: There is no seam allowance included. I would recommend adding 1.5cm seam allowance.
1 Front piece (1x on fold)
2 Back piece (2x)
3 Front Facing (for armhole) (2x)
4 Back Facing (for armhole) (2x)
5 Circle (for collar) (30x)
6 Neck Binding 4 cm x 85 cm (no pattern) (1x)
Preparations: Copy all pattern pieces onto your fabric (take care on the grainline of pattern pieces 1 and 2). Then cut the pieces. Apply fusible interfacing onto all armhole pieces and 15 collar circles. Be cautious to apply the interfacing onto the wrong side of the fabric. In order to keep it simple hem all edges (except collar circles) before starting to sew.
Mark the real neckline as indicated on the pattern with some hand stitches and a different colored yarn on the front and back pieces. This will help you arrange the circle collar later.
0 Comments on Step 1
This project is based on
Make it