Knotted Denim Rug
Added Feb 8, 2011
by wendylynnb
Calgary, Canada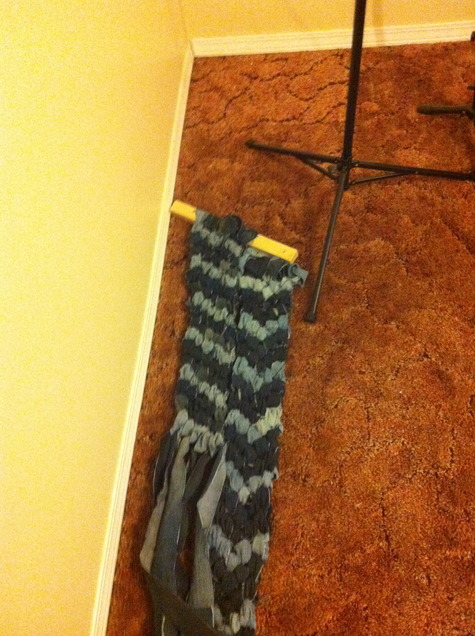 ShareThis
Description
Still in progress!
My blue jeans never make it to the donation pile, as I usually wear them until they are worn to shreds in all the wrong places. I have been looking for something to use them for, and then I also needed a rug for our front hall that would be sturdy and washable but also have some personality.
I looked at a few denim rag rug pictures, and most are circular or oval. I wanted one that would fit the rectangular space more completely. I decided to make an enlarged version of the knotted friendship bracelets I used to make from embroidery floss when I was a kid. I'm planning to make several strips, align them in nice zig-zag pattern, and then attach the strips together by threading extra strips across through along the zig-zag.
It's a work in progress, so more pics of the finished product will come later (hopefully sooner than later).
Material Notes
One pair of jeans makes 2 long strips. Each knotted strip needs 6 long strips (3 pairs of jeans). If you have all dark jeans, you can flip strips over and use the underside for the pale part of the zig-zag.
To prepare the long strips, I cut the seams out of a pair of jeans and separated the waistband, pockets, and zip fly to use in other projects. I then cut strips roughly 2" wide and sewed these end to end by machine with a straight stitch. I then rolled each long strip into a ball to make the knotting easier.
The v-shaped one is made using the friendship bracelet "Chevron" pattern and the diagonal pattern is made using the friendship bracelet "Candy Stripe" pattern.
Difficulty
Intermediate
Categories
For