Kicking Butt and Taking Names
Added Feb 26, 2015
by pictureit17
Crystal Spring, ...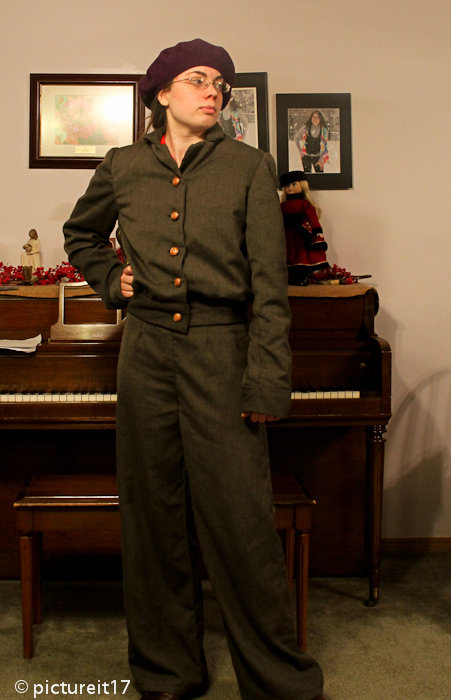 ShareThis
Description
I shed my blood, sweat and tears for this jacket, well only blood (those scissors were sharper than they looked)
A mostly finished 40s ensemble. jacket is a 70s trench coat pattern McCalls 6798 I cut off at the waist and added the waistband and sleeve cuffs that are indeed safety pinned. The Jacket was inspired by By Gum By Golly's sew for victory jacket and the fact if I want a crop jacket that remotely fits I'm making it myself, and Last but not least I love 1940s style clothing (if you haven't guessed).
Pants are a Simplicity Retro Repro pattern I'm too lazy to look up the number for.
Blouse 1940s Simplicity pattern
I apologize for not wearing appropriate red lipstick in these photos, but I got excited that my jacket looked presentable enough and had to get some (very) quick photos.
I think finishing a book (All God's Children by Anna Schmidt) set in the 1940s today help kick me into wanting to finish my jacket, and watching Agents of S.H.I.E.L.D on Netflix and being a little sad I don't get the channel with Agent Carter… Anyhow my jacket makes me feel like I should have Captain America for a sidekick and like I ought to be wearing my red lipstick,
Difficulty
Intermediate
Categories