Keep it simple
Added Mar 17, 2011
by dreamfast
Kaunas, Lithuania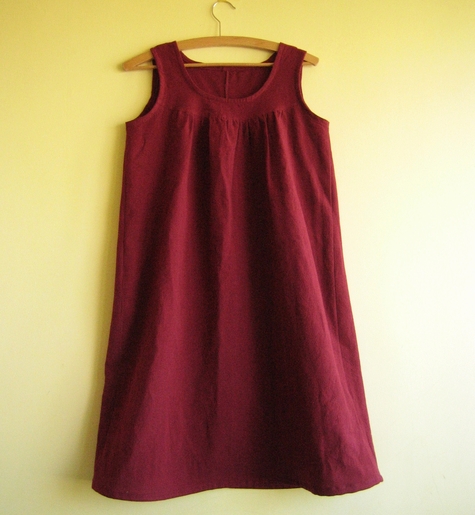 ShareThis
Description
This is the dress I've made about a month ago, but never found the time to take photos of. The problem is that my camera's going crazy and the results I get displease me sooooo much, that I try not to use it. So, the true color is deep red, something more like this http://www.ryteksma.lt/ryteksma_img/dazyta/dazyta/bordo.jpg , than the one you can see in the pictures.
I wanted something extremely simple, so that I could put on a cardigan and stop worrying or bothering about anything else. Worrying, perhaps, is a bit too strong a word to say, but the thing is that my body's changing all the time, even during the month, so if I try to make myself some close fitting garments (from woven fabrics, lets say), I usually end up in disappointment due to these constant metamorphoses. That's why I decided to make a very short bodice and let the rest of the dress to fall freely. And the good thing is that it both feels and looks good with a vest or a cardigan, so the dress itself does not look like a sack, because the upper garments sort of give shape to the body (of course, the same result could be achieved with a belt) :)
I've used bias tape (again) both for the neckline and the armholes, but in a different way than I did before: it's hidden inside and only one stitch line shows on the outside. The idea came from Sewaholic's blog, where she made a tutorial on working with a bias tape like this (the link's bellow).
I've also crocheted a small lace, meant to be around the neckline, but I'm not so sure about it, anymore. It's just… they sort of contrast with each other too much, the dress and the lace and go in their separate ways. As an accessory the lace seems too flashy for my liking… Unless I could dye it to make it darker, then, probably, yes, it would look better. What do you think?
P.s. and there's the muslin of the dress in the last photo, a cropped version :)
Material Notes
Soft cotton, thread, crocheted lace
Difficulty
Novice
Categories
Credits