Katjusha
Added Aug 13, 2010
Several Places, ...

Step 1 Katjusha Size 36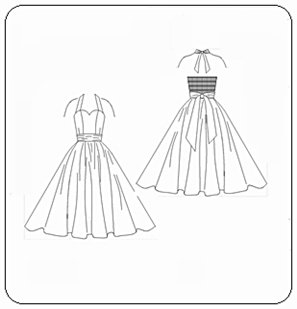 Materials:
we used the following materials:
dress fabric: first layer: printed cotton 2,5 m (2,73 Yds)
second layer: white cotton batiste 2 m (2,19 Yds)
*note: instead of using two layers, you can sew the dress without any lining only with one layer.
elastic for the back 3 m (3,28 Yds) – 5x 28 cm (11´´) for Backside + 66 cm(26´´) for Waist
lace trimming : approx. 6 m ( 6,56 Yds)
satin-band: 10 mm width – 6 m length (3/8´´ – 6,56 Yds)
Download pattern:
Seam allowances are included! 1/8"
Print out:
No page scaling! Check the test square! The test square should be printed out exactly on the right measurements. 10 cm x 10 cm ( 4 Inch x 4 Inch)
Arrange the sheets as shown in the overview of the pattern (to make this go faster, just fold the edges of the paper instead of cutting them)
Tape the sheets together
Cut out all the pieces. We offered our pattern in size 36. You should adjust the pattern if your measurements are not according to size 36. Size charts are here: size chart
And here is the tutorial of "elainemay" which shows you how to make a pattern larger or smaller: grading-turorial
Note again: Seam allowances are included! 1,5 cm (5/8´´)
Cutting out the fabric:
Cutting list:
Front middle part: 1 x on fold
Front side part: 2x
Back part: 2x (1x and 1x Lining)
Skirt: 1x folded at the sides ( 1x and 1x Lining)
Front facing:1x on fold
Front middle part lining: 1x on fold
Front side part lining: 2x
Put patterns on fabric. Grain line should be correct.
Cut units and transfer all pattern markings on fabric.
Seam allowances are included! 1,5cm ( 5/8´´)
Try on
This dress has a great fit because of the back part with the elastics. However, you may stitch the bodice front part by hand and apply it to your bodice. What's about the fit around your bust?
If it is all right, you can start putting the dress together.
2 Replies

1 Reply

1 Reply
Patterns for this Project
This project is based on
Make it

Make it